Ringer to Make Like Damages, Focus on Past and Present
Matt Richenthal at .
Ringer is a new CW series about an alcoholic twin in the witness protection program, who meets up with her sibling and eventually takes on her sister's identity when she allegedly kills herself.
Follow all that? If not, the show's panel at yesterday's Television Critics Association press tour didn't exactly clear things up.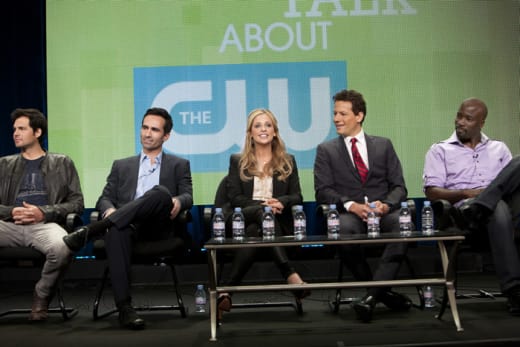 Co-creator Eric Charmelo said the series uses Damages as a model and will "play with time and perspective" throughout season one.
It will also re-introduce Sarah Michelle Gellar to TV audiences. The beloved actress portrays the roles of Siobhan and Bridget on Ringer, as well as Bridget pretending to be Siobhan.
"I think there are two or three flashbacks for me," Gellar said. "The flashbacks are a great way to give answers to the story... You will see both Bridget and Siobhan present and past."
Confusing? Yes. Enticing? Heck yes. Ringer premieres on September 13 and we've got your first look at the pilot HERE.
Matt Richenthal is the Editor in Chief of TV Fanatic. Follow him on Twitter and on Google+.