Gabriel Mann Previews Game-Changing Episode of Revenge
Matt Richenthal at .
Gabriel Mann stars as Nolan Ross on ABC's Revenge, an engrossing primetime soap opera that evidently leaves cast members as shocked as viewers on a weekly basis.
"We're constantly picking our jaws off off the table," Mann told me on the phone this week, comparing his first series regular stint to an "endless cup of coffee at a diner."
A really tasty, endless cup of coffee, fans will agree. Through weekly takedowns of those who have wronged her, Emily VanCamp's Emily Thorne is a fascinating heroine unlike any other on television.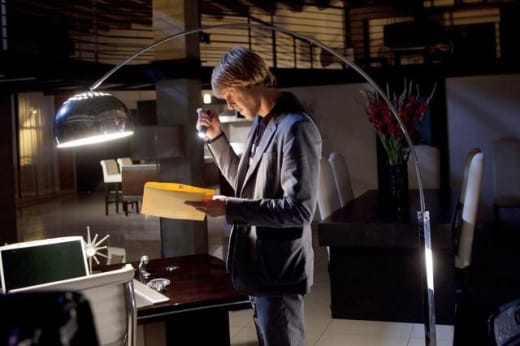 Echoing what VanCamp told me earlier this season, however, Mann says the procedural-like elements of each installment will change tonight.
"It's an amazing episode," Mann teases. "The first four weeks laid the groundwork, and now we've got a lot of interesting characters set up and we start to delve into the ripple effects of all that's happened so far. This episode expands the story in spectacular fashion."
Expect plenty more "curveballs" this fall and into this winter, Mann says, adding that we'll learn a lot more about his young billionaire along the way.
"The show will connect the dots from the Nolan we saw at the flashback at the end of the pilot, when he handed Amanda that box, to the person we see now. How he went from that guy to this guy will be told through the course of the season."
Consider TV Fanatic along for each bump, twist and turn on that ride. For a look at tonight's mega episode, visit our Revenge video section now and view a couple of clips.
Matt Richenthal is the Editor in Chief of TV Fanatic. Follow him on Twitter and on Google+.