Captain Awesome enjoyed one awesome moment in between the most recent seasons of Chuck.
In a recent interview, Ryan McPartlin told me about spending time on the set of J. Edgar - in which he portrays a man who introduces Leonardo DiCaprio's title character to Armie Hammer's Clyde Tolson - and chatting with iconic director Clint Eastwood.
"We BSd about Every Which Way But Loose and even swapped orangutan stories between takes," the actor said. "It was pretty cool."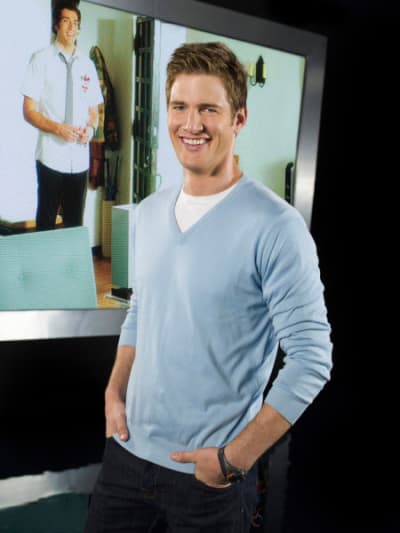 Now, of course, it's back to the business of being Awesome for McPartlin, as the final season of Chuck gets underway tonight. What will be the Devon Woodcomb's role when we pick up new episodes?
"He's the face of Buy More," McPartlin said. "There's a special need for the Buy More to perform well."
So no more spy adventures? Don't count him out entirely, McPartlin says, but "there is family to think about now. He can't just do it for the adrenaline rush."
In real life, however, McPartlin enjoyed the rush of meeting one of this season's many guest stars: former Matrix actress Carrie Ann Moss, who will come on board as a love interest for Casey.
"All I could think was: 'Here I am, talking to Trinity,'" he said. "And it was totally normal! We talked about her kids, got along very well, but I couldn't get her character out of my head."
As for how this final season will conclude, McPartlin says he has no idea. But he does have his own theories, or preferences.
"It's always nice when there's some big event to bring everyone back together. A wedding. A baby being born. I just want us to come together as a family and maybe tease the audience with what could happen next, but leave them satisfied with all they've seen."
Chuck kicks off the beginning of the end tonight. Watch clips from the episode in our video section and visit TV Fanatic as soon as the premiere concludes for a full review.
Matt Richenthal is the Editor in Chief of TV Fanatic. Follow him on Twitter and on Google+.