Here we are again, Gossip Girl fashion lovers. Quite a bit of time has passed and we're all still reeling from the show's heart wrenching, edge-of-the-seat, jaw-dropper of a midseason finale.
As we count down the days until we see what has really become of our favorite dark, twisty, star-crossed, well-dressed lovers, we decided to walk down memory lane - a stylish lane, if you will.
While the past year has seen Blair Waldorf as an editrix at a fashion publication, randomly kissing Dan Humphrey, engaged to a prince, knocked up, and somehow always sneaking a few minutes in with her dark knight, she's looked pretty fantastic through and through.
Here's a look at the best of our chocolate haired, brown eyed Queen B in 2011: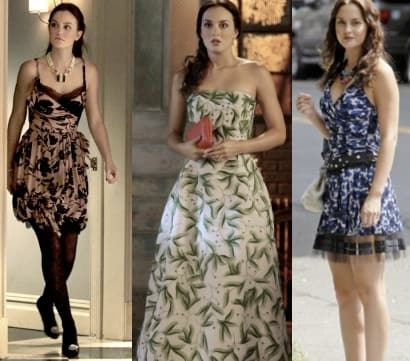 15. The au naturale look gives B a little air of innocence; nothing will absolve her from that horrid kiss that took place in her foyer shortly after this scene. That floral print and a pendant paring from neck to toe make for a nude look to remember (above left).
Actual Dress: Christian Dior Pre-Fall 2010 Floral Lace Dress
Steal Dress: RED Valentino Flocked Floral Dress
14. The first event of the season found our girl in Oscar de la Renta and in Brooklyn, no less. A bare neck and a bold clutch pair nicely for her almost night out with her uber-boring fiancé (above center).
Actual Dress: Oscar De La Renta Spring/Summer 2011 Dress
Steal Dress: Winter Kate Damien Maxi Dress
13. Shocker! An unintentional matching of the minds leaves our favorite duo in hues of blue (as their moods) greys, and pinks. You know pink means good things for them (above right).
Actual Dress: Louis Vuitton Cruise 20210 Blue Print Dress
Steal Dress: Rachel Pally Vala Dress
12. Chic, chic chick - a classic a-line coat paired with a paisley scarf is very Casablanca, very Blair Waldorf (above left).
Actual Coat: Philosophy Coat
Steal Coat: Madewell September Hydrangeas Scarf SMYTHE Wrap Coat
11. You know BW is confident when she puts A. Color on and B. any kind of short/pant situation. Taking the reins at W, she is sassed and in style (above center).
Actual: Valentino Pearl Cardigan/Usai Blouse/Organic High-Waisted Shorts
Steal Top: Maggie Ward Drape Blouse
10. Her trademark red lips paired with blushed cheeks is the epitome of a Waldorf silenced. Cat got your tongue, B or does Chuck (above right)?
Actual: Blumarine Short-Sleeve Lace Shift Dress
Steal Dress: Juicy Couture Lace Shift Dress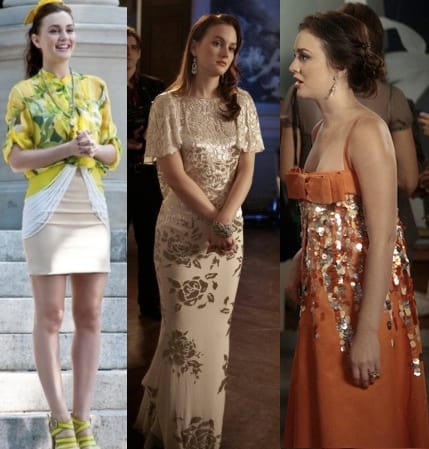 9. A girl in yellow is a girl in charge. A Moschino top and a little fascinator to match definitely say boss. Those bridesmaids don't know what hit 'em (above left).
Actual: Moschino Cheap & Chic Lemon Print Silk Blouse/Carlos Miele Skirt
Steal: Opening Ceremony Scalloped Floral Blouse
8. A true romantic on Valentine's Day, Blair put on a floor sweeping, back-bearing dress hoping to catch the eye of her favorite boy billionaire, too bad he was busy with Raina.God, that was a ridiculous story line (above center).
Actual Dress: Marchesa Gold Metallic Gown
7. Though just a peek, B's bump finally started to emerge just in time for her shower. She kept it covered with this true-to-her handle Dior dress: Prim and proper with a touch of sparkle. It's only fitting since she is about to be royalty, so she says (above right).
Actual Dress: Christian Dior Embellished Bow Dress
Steal Dress: RedZ Spoke by Zac Posen Bustier Flare Dress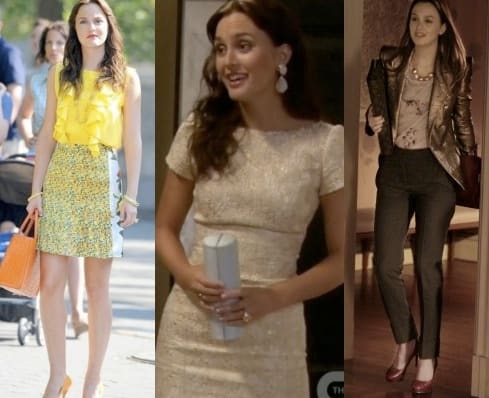 6. With the hint of a European tan still remaining, our girl kills it in the only way she knows how, punchy colors and sharp accessories. We LOVE the orange (above left).
Actual Skirt: Stella McCartney Spring 2011 Floral Skirt
Steal: Motel Becka Skirt
5. A bride with a secret, Blair tries to play it cool while feeling the baby blues. Though it fits like a glove, it's still posh, with a gorgeous pale blue clutch and earrings that stand out (above center).
Actual: Prada Brocade Dress
Steal Dress: Bebe Microsuede Cowl Neck Dress
4. We would've chosen all the looks from Blair's time at W, but then this list would be a sea of Season 4! A slim pencil pant, a sharp-shouldered blazer and sky-high pumps says boss more than anything else (above right).
Actual Outfit: Balmain Gold Brocade Jacket/ Stella McCartney Narrow Cuffed Pants
Steal Outfit: Robert Rodriguez Double Breasted Blazer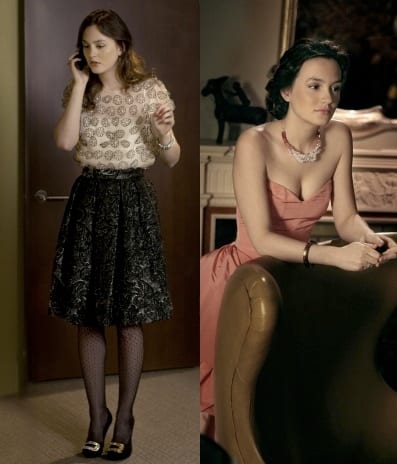 3. A whole lot of texture is hard to work, but Blair succeeds with flying colors. A brocade skirt and a chiffon patterned top go beautifully together, not to mention those Vivier pumps - gorgeous (above left).
Actual Outfit: Lace Sheer Cocktail Dresses with Floral Organza Bottom by Carmen Marc Valvo

2. A touch of flush for the beauty. Bare-faced, matte-lipped and a hue of pink that looks so feminine; there is nothing more elegant than minimalism (above right).
Actual: Oscar de la Renta Sweetheart Neckline
Steal: Naven Bombshell Dress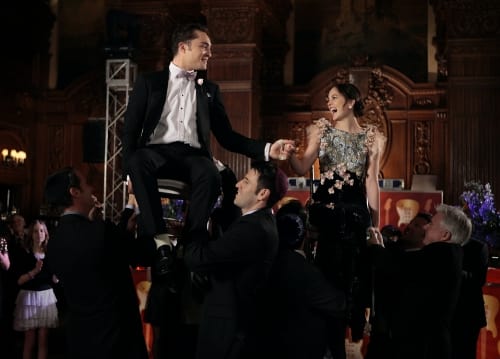 1. As stunning as Blair looked in this dress, we were never happier to see it come off. A romantic sweep of her curls with strong shouldered gown helped make the magic happen between Chuck and Blair in last season's finale.
Actual: Alexis Mabille Fall Couture Petal Embroidery 2010 Dress
And there you have it! Blair Waldorf, no matter if she's betrothed, bewildered, heart-broken, or babied up, manages to do so in her finest. 2012 will bring her in a wedding dress, in handcuffs, and hopefully a lot less fascinators, but we're looking forward to it either way.