Back off the ledge, Community fans. NBC President Robert Greenblatt made it very clear today: the show has not been cancelled.
"It will definitely be back this spring," Greenblatt told reporters at the Television Critics Association winter press tour, adding regrets that he wasn't clear about this when it first vanished from the schedule. "I want to dispel any notion that it's just quietly disappearing... I know there are many fans of the show in this room and I want you to keep writing about it."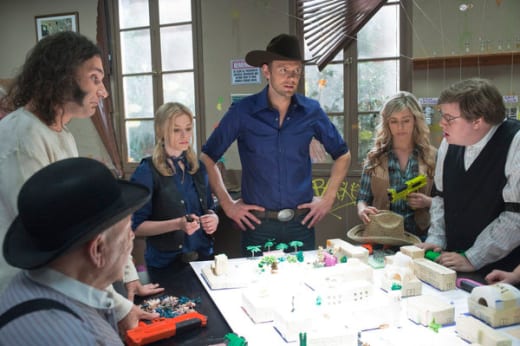 Where might the show end up? Greenblatt expressed hesitation about "[starting] off a night" of programming with it, so we may see it pushed back later on Wednesday or Thursday nights."
The real question, though, centers around a fourth season. The executive acknowledged Community's strong, "loyal" core audience but was also frank about how little that group has grown over the years.
"Those are really hard questions to answer at this point," he said about season four. "We're just going to look at the success of what pilots yield, what the scheduling needs are and make that decision closer to the upfront [later this spring]."
Matt Richenthal is the Editor in Chief of TV Fanatic. Follow him on Twitter and on Google+.