It really is over between Diana and Adam on The Secret Circle.
Yes, these two still reminisce about their relationship, and, granted, they're still trying to navigate the friendship path - but Adam is clearly into Cassie and, as Shelley Henning tells TV Guide, Diana will soon find a new love interest of her own.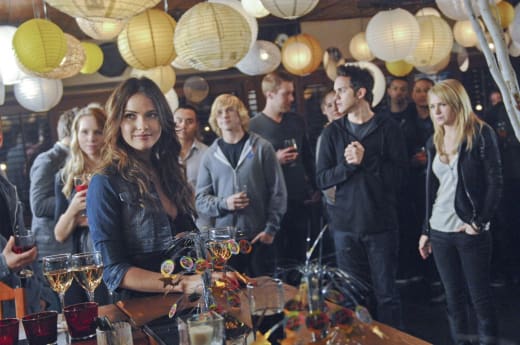 Asked about Grant, the character set to soon sail into Chance Harbor (played by Tim Phillipps), Henning acknowledged a burgeoning romance there and said:
He's "really handsome, really sweet and hopefully he's going to sweep Diana off her feet, if not long term, at least to help Diana get through this heartbreak with Adam. But who knows, maybe this guy's exactly what Diana needs."
Henning added that no one in the cast knows who the identity of the other Balcoin offspring, but she hopes it's Diana because that would explain her connection to Cassie.
As for whether there's any of Charles in his daughter? What else the actress wants to know about the fire 16 years ago? Head over to TV Guide now for the complete interview. (And visit TV Fanatic later tonight for a full rundown of the latest episode!)