Over the last couple Smash episodes, as Uma Thurman has come on board in the role of Rebecca Duvall and Karen and Ivy have found a common enemy, these two former antagonists have grown closer.
But star Megan Hilty has a warning to viewers excited about this friendship: the good times won't last.
"They do have this bond now and they do become close," Hilty told me of what's on tap to close out season two. "But something happens toward the end that… well, I can't see them coming back from it."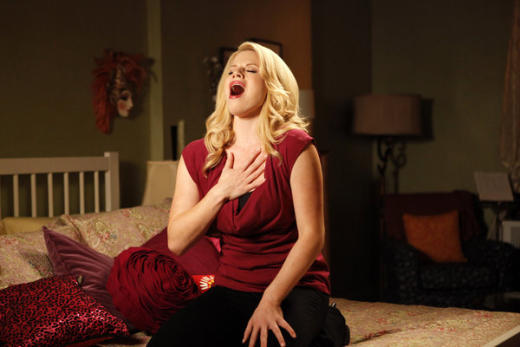 Whatever that is (Hilty obviously could not reveal more), it won't be the only major event to befall characters on the season finale.
"It's just one jaw-dropper after another," Hilty teased. "Every single person has a huge cliffhanger."
As ideal as Hilty is for the role of Ivy Lynn, meanwhile, she nearly skipped the audition because the script called for Ivy to be a serious dancer. And as impressive a resume as Hilty possesses - starring in Broadway productions such as 9 to 5 and earning nominations for Critics Circle and Drama Desk Awards, among others - she doesn't see herself as a dancer.
Hilty gives all credit to choreographer Joshua Bergasse for what you see on screen.
And she ended up there because she saw the need to change up her career a bit.
"I was looking around at the people whose careers I wanted to emulate," Hilty said. "They all seemed to diversify what they were doing and I figured I'd take a crack at the TV thing because it will challenge me as an actor and maybe open some doors."
So along came Smash and Ivy Lynn and a chance to combine one world she knows well with another she's just breaking into.
"There are so many people involved in the show who come from Broadway," Hilty said in response to how realistic a portrayal the series is of the musical universe. "You can't help but be grounded in truth. But we're not making a reality show. We do take some creative liberties."
Hilton has workshopped plays many, many times before, she confirmed, while adding that the understudy concept is "always uncomfortable."
"You have two people in the same building who think they are right for the same role."
That's been the case for Karen and Ivy for awhile now. Where will their relationship go next? Find out tonight on NBC when Smash airs a new episode.
Matt Richenthal is the Editor in Chief of TV Fanatic. Follow him on Twitter and on Google+.