As announced by Shonda Rhimes herself on Twitter just a short while ago, with just one episode remaining in its first season, Scandal has been picked up for a season number-two.
The uber producer/creator added that she's "still waiting to hear" about the fate of Private Practice, but it's expected to return for a concluding 13 episodes.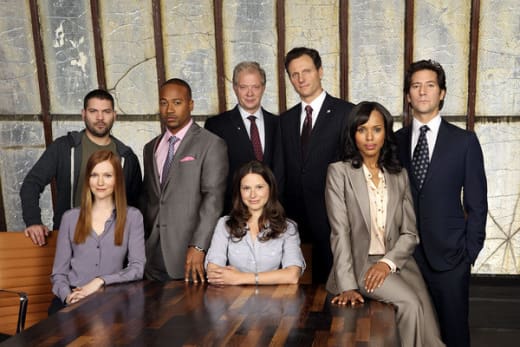 ABC, meanwhile, has also given the green light to nine pilots, including one starring all-time TV Fanatic favorite, Connie Britton. The shows that will be included on the 2012-2013 schedule are:
Nashville: A country music-themed soap starring Britton as an industry veteran and Hayden Panettiere as a newcomer.
Zero Hour: Stars Anthony Edwards as a man at the center of a conspiracy after his wife is kidnapped.
Red Widow: Based on the widow (Radha Mitchell) of an assassinated criminal who takes over her late husband's role in a crime syndicate in order to protect her family.
Family Tools (previously known as Red Van Man): Revolves around a man (Kyle Bornheimer) who reluctantly takes over the family handyman business from his father (J.K. Simmons).
Neighbors: Lenny Venito, Jami Gertz, Isabella Camp, Clara Mamet, Max Charles all move into a coveted New Jersey gated community and learn the neighborhood is comprised of, well, aliens disguised as humans.
How to Live With Your Parents: Multi-camera sitcom that stars Sarah Chalke as Polly, s divorced single mom who moves back in with her eccentric parents played by Elizabeth Perkins and Brad Garrett.
666 Park Avenue: Dave Annable and Rachael Taylor star as a couple who agrees to manage New York City apartment complex owned by characters played by Terry O'Quinn and Vanessa Williams. A SUPERNATURAL apartment complex, that is.
Last Resort: The crew of U.S. nuclear submarine establishes its very own nation. From Shawn Ryan, cast includes Andre Braugher, Autumn Reeser, Scott Speedman, Dichen Lachman and Bruce Davison.
Malibu Country: A sitcom led by Reba McEntire and focusing on a recent divorcée who moves her kids and mother (Lily Tomlin) from Nashville to Malibu.
UPDATE: ABC has just announced it has also canceled GCB, Missing, The River and Pan Am.
Matt Richenthal is the Editor in Chief of TV Fanatic. Follow him on Twitter and on Google+.