So that's Barney's bride!
The How I Met Your Mother season 7 finale delivered multiple surprises, from the return of Victoria to the reveal of Robin as the future Mrs. Stinson. Really, could it have been anyone else?
Now, in an interview with TV Line, executive producer Craig Thomas teases what it will all mean for season eight and beyond. Warning: spoilers ahead...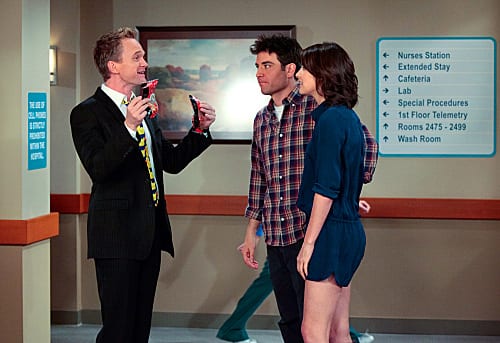 Will there be wedding bells? Yes. "There's going to be twists and turns built into that day."
Will Quinn return? Yes, even though Becki Newton has been cast on The Goodwin Games. The Season 8 premiere will pick up on the same day as this finale. "There's a lot of great stories to tell just in that one day," Thomas says. "Episode 2 will leap ahead to September, and we'll see where everybody is four months later."
There will be a "significant arc" for Robin involving a new love interest.
The Season 8 premiere will "show all of the ramifications of" Ted learning that Victoria did not leave a note for her fiancé upon leaving him and turning his car around to fix that.
For a lot more from Thomas, visit TV Line now and then grade the HIMYM finale: