Common Law wrapped up its first - and only? - season last Friday.
Did the finale do enough to warrant a renewal from USA? Are you hoping this is the case? Before we look too far ahead, let's take a look back at Season 1 via the following TV Fanatic Report Card...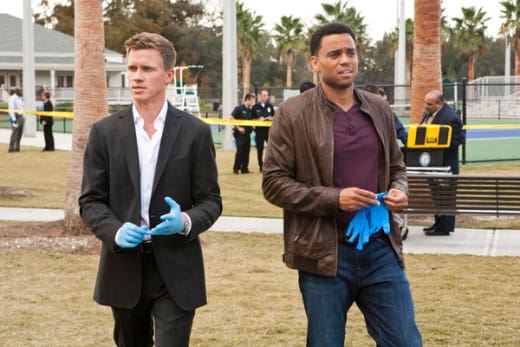 Best Episode: The season finale, "Gun!" Warren Kole and Michael Ealy their best performances. The emotion was spot on and I really felt like I got to know Wes and Travis in a way we hadn't quite come to understand them as partners and friends. It added depth to the show and had me really disappointed that there weren't any new episodes until, potentially, next summer.
Best Therapy Session: Dr. Ryan's homework from "Odd Couples," where Wes and Travis attempted to walk in each other's shoes (and wardrobes). I have never seen two people more determined to out-mimic each other.
Most Awkward Moment: Wes and then Travis' fantasies about Dr. Ryan in "Hot For Teacher." I just couldn't handle it.
Chances for Renewal: USA Network has a strong tradition of renewing their original programming. Even though I believe Common Law had some opportunities to perform more strongly despite the difficult Friday night time slot and struggled a little bit to hit its stride, there's plenty of story left in this show.
Hopes/ Predictions For Next Season: That Sutton returns to counseling with Dr. Ryan, with or without his wife…. I want to meet more of Travis' foster families/siblings… also, more Alex. I realize she and Wes aren't together anymore, but I really liked her… I want to meet Wes' parents.
Overall Grade: B
Your turn, TV Fanatics. What grade would you give Common Law Season 1?
C. Charles is a TV Fanatic Staff Writer. Follow her on Twitter.