With August coming to a close, TV Fanatic will be giving readers an idea of which new shows to watch and which to speed right through on your channel guide. So far, we've previewed The CW's Arrow and ABC's Nashville, among other premieres.
Now? Let's check in with Fox's The Mob Doctor...
-------------------------------------------
When It Airs: Monday nights at 9 on FOX.
Who It Stars: Jordana Spiro, Wendy Makkena, Jesse Lee Soffer, William Forsythe, James Carpinello, Zach Gilford, Zeljko Ivanek, Floriana Lima and Jaime Lee Kirchner.
What It's About: A young thoracic surgeon who cannot extricate herself from her familial debts to the mob.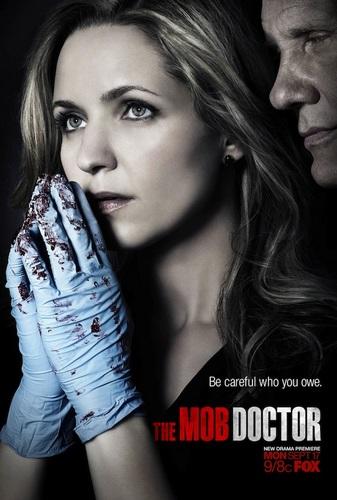 Why You Should Make an Appointment: Despite a fairly cliché premise, the characters are identifiable and, as Dr. Grace Devlin, Jordana Spiro should make you think twice about whether it would be a black and white decision to put her future into the hands of family friend and mobster, Constantine Alexander (Forsythe).
Word on the street is co-creators Josh Berman and Rob Wright are hoping to suck you into Grace's life and then shock you with the choices she makes as she falls deeper into the enthralling life gangsters. It's an attempt to bring the grit and realism of Sons of Anarchy and Damages to network television.
Additionally, it brings back to the small screen Zach Gilford of Friday Nights Lights fame. That ought to be enough of a sell for many.
Why You Should Cancel It: While competition is always a factor, the greatest foe may be the idea that we can watch Grace descend from the sweetheart she is in the first episode to a dark anti-hero that makes questionable choices later on. I'm imagining what they did with Pope on Falling Skies. No matter how hard they try to make him a badass again, the die has been cast. Even after one episode, I can't imagine a dark Dr. Devlin. They might not have enough time to prove their case.
Recommendation: At least DVR it. If you're not into reality and sports, there aren't a lot of scripted options in the time slot, so it might do really well. You won't want to miss out on the beginning if it enjoys a long run.
Carissa Pavlica is the managing editor and a staff writer for TV Fanatic. Follow her on Twitter.