It's August. The dog days of summer. The month may bring the heat, but it also brings excitement over the fall television season, which - for the most part - gets underway next month.
In anticipation, we're offering up previews of various new shows from around the dial. Having already seen the premiere, I strongly recommended ABC's Last Resort a few days ago. Now, it's on to the scariest address on the small screen: 666 Park Avenue.
-------------------------------------------
When It Airs: Sunday nights at 10 on ABC.

Who It Stars: Rachael Taylor, Dave Annable, Mercedes Masöhn, Robert Buckley, Helena Mattsson, Erik Palladino, Samantha Logan, Vanessa Williams, Terry O'Quinn
What It's About: A young couple (Taylor and Annable) are hired as the managers of an apartment building in New York City that's owned by Olivia and Gavin Doran (Williams and O'Quinn), a pair of shady agenda-carrying individuals who may or may not have a close relation to Satan.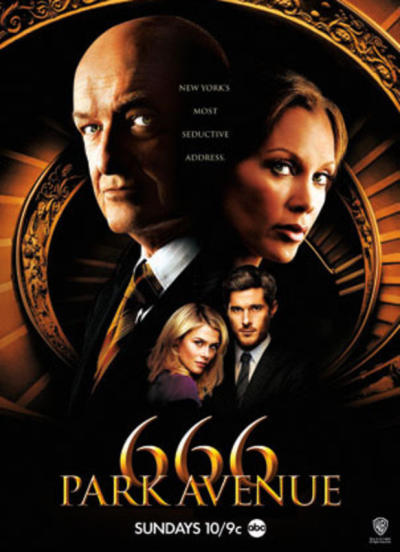 Why You Should Watch: Because this is mindless entertainment on a Sunday night. It's the sort of show where you can switch off your brain and simply reveal in O'Quinn's dastardly smirk or Taylor's mind-numbing beauty. It's the epitome of a guilty pleasure, with everyone in the cast clearly having fun and events set against the backdrop of sex, suspense and horror.
Following Revenge and Once Upon a Time, 666 Park Avenue is the perfect capper for an evening of fun and fantasy on ABC.
Why You Shouldn't Watch: It's not creepy enough. This is network television, so there's only so far the series can go (as opposed to the utter, awesome absurdity of American Horror Story, for example), but I spent the pilot waiting to truly be frightened or taken aback.
But there's not really a lot new here. A haunted house? Deals with the devil? It's all fairly derivative.
Through one episode, it also feels like a waste of O'Quinn. Viewers witnessed layer on top of layer from the actor in Lost, but he's really a one-note villain in the premiere. The star did tell me at Comic-Con, however, that he hopes and assumes we'll learn a lot more about Gavin as the drama progresses.
Recommendation: WATCH, but don't expect greatness.

Matt Richenthal is the Editor in Chief of TV Fanatic. Follow him on Twitter and on Google+.