With Robert Sean Leonard and Gloria Reuben booked on multiple episodes, it's safe to say we're already excited for Falling Skies Season 3.
But before we look way ahead, let's take a look back at the 10 episodes that comprised this TNT drama's summer run. Which installments stood out? What separated 2012 from 2011? What is our final Report Card grade? Read on and chime in with your own take...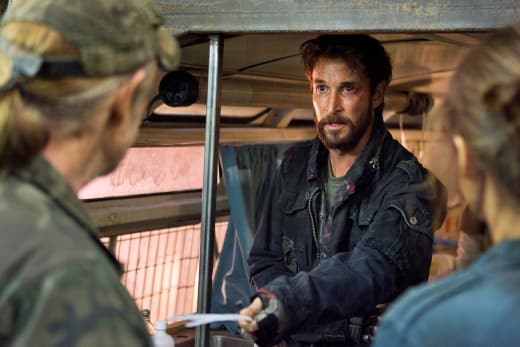 Best Episode: "Love and Other Acts of Courage." A 2nd Mass member died. Hal and Maggie grew a lot closer. And we Tom was let in on the major Red Eye secret that not all aliens are working together.
Worst Episode: "Young Bloods." This was exceptionally poor all around. It randomly brought the survivors into contact with a bunch of kids, one of whom happened to be Weaver's daughter. Their relationship was then forced down our throat, only for the pair to be separated again before the hour was even over. A manipulative mess all around.
Best Character: Hal came into his own and Ben played an integral role, but how can this be anyone but our reluctant hero Tom Mason?
Worst Character: Lourdes. I'm sorry her boyfriend died and all, but the show tried way too hard to make us care about this medical student. She was a sullen bore.
Coolest Scene: Tom's eye surgery. No, wait, Jamil's death. No, make that the inside of the harness factory. Or maybe the Red Eye vs. Alien Overlord fight on the finale. This is all a way of giving major props to the special effects department.
Best Decision: Hal choosing Maggie over Karen. Seriously. Call me crazy, but I just don't trust that harnessed ex-human.
Hopes for 2013: More of the same, really. The action was ratcheted up multiple notches compared to Season 1, with the important relationships - Tom and Weaver, Tom and Anne, Hal and Maggie - nicely developed and with legitimate surprises along the way. The show stumbled a bit at the end, losing its way in Charleston and rushing through confusing changes in alliances. Writers also seem unclear what to now do with Pope.
But this is a perfect summer series. It won't win any Emmys, it won't necessarily keep you glued to the screen every nanosecond. But it will entertain through twists, turns and a whole lot of gun fire.
Overall Grade: A-
Your turn, TV Fanatic: What grade would YOU give Falling Skies Season 2?
Matt Richenthal is the Editor in Chief of TV Fanatic. Follow him on Twitter and on Google+.