CSI Exclusive: David Berman Teases a Deadly High School Reunion
Jim Halterman at .
CSI doesn't shake things up too often, which could be why it's currently in its 13th successful season.
But diehard fans will notice a difference right from the start of tonight's episode, "Dead of the Class."

For a change, Assistant Coroner Dr. David Phillips (played by David Berman) steps out of the lab and is front and center when a murder takes place at the high school reunion he reluctantly attends.
There are also other unexpected moments, as Berman teases in the following Q&A, including meeting his character's significant other for the first time. Read on for key excerpts...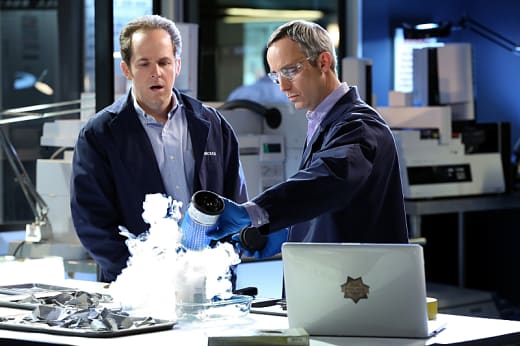 TV Fanatic: There are some fun moments right from the start of this episode but how did the story come about? It's definitely something a lot of us can relate to.
David Berman: I actually went to my high school reunion last spring and I really didn't want to go, and an old friend convinced me to go, didn't give me an out. And the next day, I actually ran into Tom Mularz, who's a writer on staff, and I just said 'wouldn't a high school reunion be a great place to kill somebody?'
And I thought, selfishly because I'm the coroner, unless I am involved in the killing or there's a dead body, there's no reason for me to be involved. So I thought 'wouldn't it be wonderful to put a crime in a setting where my knowledge of the geographical location of the event as well as the suspects and the victim…I could actually help the case. And Tom thought so as well and then crafted this really great story.
TVF: The person who is murdered. Is it someone likeable or not so likeable?
DB: We all knew a Becca. Becca is the girl in high school who drove us to therapy, who pulled pranks on you, and she is just this detestable, perfect beauty queen who ruled the school, and who ruined everybody's life. I think what's so wonderful about this episode and why I was so pleased with the script is that maybe you don't have a lot of sympathy for the victim, but you have a tremendous amount of sympathy for all the suspects. And I think that's why this episode is so good is that you actually care and that's why CSI is so good. You actually care about the people who may have committed these crimes and you get invested in their lives.
TVF: I love the scene where you actually get to talk to Becca after she's been killed, which is really fun and more than a bit gory!
DB: Yeah. It's very Six Feet Under.
TVF: How was that to shoot? I mean, I don't know if it was CGI or…?
DB: It was phenomenal. That's a living girl. She's in there. She's buried underneath the autopsy table. Underneath the slab, there's a compartment for her body. You could not tell looking at it. I mean, I was a foot away and it looked so real, it actually made me want to gag a little bit. Meanwhile, she was split open and everyone's telling jokes and giving me a thumbs up. I mean, I have the creepiest photos from that day.
TVF: You also have a really nice scene toward the end with Elisabeth Shue. It was nice to have that more familial moment between the two of you.
DB: Yeah, and you don't get them that often and that's nice. So when you get those, it's very rewarding. You don't want to do it too much but when you do it, you feel like you've earned it. And to actually sit on a park bench with Elisabeth Shue, who I've been watching my whole life and who I adore and respect and have for a long time, and actually have a conversation, and it's not about lividity, it's not about ligature marks, which are all great things to talk about, but it's nice to actually have a conversation with another person about life.
TVF: And we get a window into another part of 'Super Dave's' life, right?
DB: Yeah. On the show my character has had the same girlfriend since season three or four and even that came out accidentally. I think it was season three or season four and George Eads, after I said something particularly nerdy, which my character is want to do, and he said, "Super Dave, you gotta get a girlfriend." And I just intuitively said, "Thanks, Nick. I'm engaged." And they kept it in. The fact that we've never met her and it's been, what now, 10 years ago. She's kind of become like the Vera of CSI. Remember Vera from Cheers? [Vera was never seen in the 11 years Cheers was on the air.]
TVF: Any future storylines coming up that you're excited for people to see, anything besides this episode just to keep on board?
DB: Yeah. I think there's a really great episode, 21 [entitled "Fearless,' tentatively airing in May] that features Wally Langham (Hodges) and Jon Wellner (Andrews), which is really, really great. I don't want to give too much away but Elisabetta, Hodges' wife comes back and I love watching the Henry Andrews' character and so I'm excited to see him as the focus  of 21.
TVF: Do you think the family element on the show is what's kept this show going for so long?
DB: There are five of us who have been there since the first season. I think I came in episode two or three. Robert David Hall came in episode four or five. So yeah…I haven't looked at the history of television, but I think you'd be hard pressed to find a show that's been on the air for 13 years that has kept at least half of its original lineup for almost the whole time barring Jorja's exit for about a year and a half, then she came back.
I think that Ted Danson is really responsible for keeping that show as fresh as anything. He's just so spectacular. Not only does he bring the gravitas of this seasoned television veteran but his ethos is just light. Even if he's not being funny, he's just funny as a person, and that comes through. I think it helps lighten up these episodes, which is really nice.
Jim Halterman is the West Coast Editor of TV Fanatic and the owner of JimHalterman.com. Follow him on Twitter.