Tonight on Army Wives, Patrick Clarke (Brant Daugherty) arrives at Fort Marshall to begin his military career.
As we find out in the following interview with Daugherty, the character will be trying to forge a separate path from his parents. The actor also had words of encouragement for those of you who might be losing faith in Army Wives and how being on the show has affected his views of the military.
Read on for excerpts from our exclusive Q&A...
What drew you to the role of Patrick Clarke?
There was something about Patrick that I understood right off the bat. When I was reading the audition scenes, I saw this young man trying to make his own way in the world, trying to get out from under his parent's shadow.
When I was growing up, my dad was an art teacher at the middle school I attended, which was interesting. So I was always Mr. Daugherty's son. He knew all the students at school, he always knew who I was friends with, who I was dating, how they did in class and all that kind of stuff. It was an awkward situation.
You know, Patrick grew up being the son of a general in the Army and people handle him softly because of that. He's trying to get away that. He want's to be Patrick Clarke, not General Clarke's son.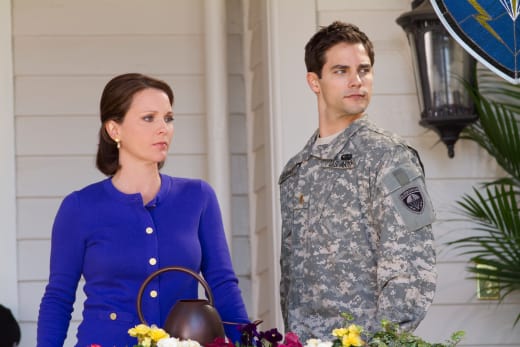 What steps can we expect Patrick to take to do that? What kind of relationship does he have with his parents?

He moved around a lot as a kid and spent a lot of years at a boarding school and at West Point, and he doesn't really have a place to call home. Now that he's graduated to Fort Marshall, there is plan in motion for the rest of his life and they'll figure it out for him. The question in Patrick's mind is, well, is he going to follow that plan or is he going to try to carve his own path? When he gets to Fort Marshall, he has some difficult conversations ahead of him.
He's also one of the few single and available characters on a show that is dominated by married couples, so we get into how that factors into the storyline. As far as, specifically the relationship between his parents, you know, it's not a typical parent/child relationship. You know, they love each other very much but a lot of his formative years were spent away from his parents and Jackie can be a bit of a social manipulator, so Patrick has been taking notes from her his entire life. There is this great scene where Patrick starts using her own tactics against her to get what he wants. It was so fun to play out.
So Patrick has two marks against him right off the bat, being a graduate of West Point and being a General's son.
Yeah, there's a point in one of the scripts when one of the soldiers refers to Patrick at Lt. Candy-Ass. And, he's trying to get away from that, because it's not what he wants.
It seems like Patrick would go to great lengths to go against Jackie and Kevin's wishes to not be Lt. Candy-Ass.
Absolutely. Right off the bat, when he meets his men, he needs to let them know that's not who he is; he wouldn't ask them do things he wouldn't do. He's not going to sit in a command post and order people - he's very hands on. He wants the men to know he's there for them.
The new cast who has come on has grown close very quickly. Have they been nudging you at all being the general's son, the shining star in the new cast?
You know, we all have a great relationship and we never lose the opportunity to take each other down a peg. That's something we have learned from our military advisor on set, actually. That joking, it comes from a place of brotherhood and respect.
Just from watching you all on social media you can tell you are having a wonderful time together.
Oh absolutely. We all have terrible nicknames for each other that really sting. (Laughs) We'll go out when we're not on set and just constantly rip on each other. It's just a great dynamic.
Will you be sharing any time with the veteran cast members and if so, what was that like for you?
You know, it's kind of tricky joining an established show in season 7, but all the veteran actors, the established characters, I have to hand it to them, they really welcomed to me with open arms. Specifically, a lof of my scenes are with the Sherwood family and I'll say that Denise Sherwood is very sweet and very easy to talk to and Frank Sherwood is terrifying. Terry Serpico is such a great guy, such a great actor, you hold your breath when you're working with him.
It would seem like Patrick and Frank would have a great dynamic.
Well, he knows my father, and he had the whole storyline where he lost his son and he sees a lof of Jeremy in me, so he wants to make sure that I'm taking care of and that he's holding my hand a little bit, that I'm safe and okay and I can't let him do that. I need to be treated just like any other soldier.
A lot of military families watch the series. What are you most looking forward to in you portrayal of a member of the military on Army Wives?
At the core of the show, it's a story for those families that we're trying to tell. We're trying to bring their stories out into the open and breathe life into them and make sure everybody can relate to it. Really, just like playing any character is making it authentic. That's the really interesting part to me, is learning the technical side of being a soldier, while also getting to explore the relationships and the hierarchies and the ranks that come along with it. They've done a great job of really immersing us into the military life. It's been one of the greatest physical and mental transformations as an actor that I've had the privilege of going through.
How much training did you do to get prepared for the role?
Oh God. We train every day. If we're not in the gym or running around the city, we're on the set doing military drills or battle scenarios. They give us our weapons and in full armor we'll run around the set trying to accomplish objectives. We'll draw up battle plans. It's been intense. We didn't have the benefit of going through a boot camp or anything like that, but we're making up for that every single day.
What has been your favorite experience of being on set of Army Wives to date?
I gotta say just the physicality of being a soldier and I got to shoot my first action scene a couple of weeks weeks ago. You know, on Pretty Little Liars, a day in the life, we don't get any action scenes. A couple fights here and there, but this is an amazing scenario where we're out in the field and we're out working and you wake up every day and it's going to be a new challenge to explore. It's been incredible.
Has working on Army Wives changed your mind at all about the military?
Absolutely. The way we have been talking about it on set actually is that everyone has that little ribbon on their car; the one that says 'Support the Troops.' We all just say of course we support the troops, of course, of course, of course. But then you get to see what they go through every day and where they sleep every night and what they eat and what their day-to-day operations are and I have just an enormous amount of respect and admiration for the people.
What's the biggest difference in joining a show like Army Wives in contrast to working on Pretty Little Liars or Days of Our Lives?
The difference for me is the realism for it all and the states of the situations. You know, we're telling the story of a war that is happening as the show airs. Unlike some other war shows that take place twenty years after the war is over, this is happening now. We have a responsibility to get it right and make it real and when we're on set every morning I remind myself that there are thousands of soldiers overseas right now who are going through what we're trying to recreate and it really resonates with me and keeps me connected with what we're doing every day.
What would you say to fans who were caught off guard at the beginning of the season with all the changes to stay on board and keep watching?
Just trust us. Every episode of this season that I've read for this season has so much heart and soul to it. We're trying to make it as real as possible. Every script that comes out - I read it ravenously and I can't wait to read the next new one when it comes out. That speaks to the talents and the efforts of the writers, the cast, the producers, and the crew. I can never wait to see what happens next and I know the audience will be along for the ride. You know, the nature of the military is that there is a constant change out. People come in and people come out most of the time people just spend a couple of years there. We've really gotten to love these characters that have been there, and I know if you give us the chance you'll get to love the new ones, too.
Carissa Pavlica is the managing editor and a staff writer for TV Fanatic. She's a member of the Broadcast Television Journalists Association (BTJA), enjoys mentoring writers, wine, and passionately discussing the nuances of television. Follow her on Twitter and email her here at TV Fanatic.