AMC has announced the premiere date for Hells on Wheels Season 3: this drama will return on August 10 at 9/8c.
Yes, readers, that's a Saturday.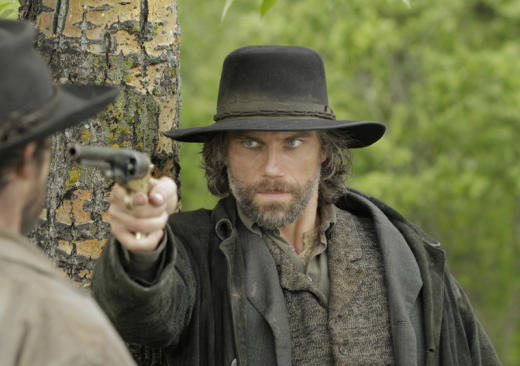 The Anson Mount-anchored series will lead a third night of originally programming for the network, which revealed in a press release that is has also acquired a number of western films (Hondo, The Undefeated, Joe Kidd...) in order to deliver one theme for hours on end every Saturday.
"A new episode of 'Hell on Wheels' on Saturday night after a full day of western fan favorites is going to be like the saddle on top of the horse," said Charlie Collier, President and General Manager, AMC.  "This is a programmer's dream – to have a genre specific, 14-hour lead-in to one of your highest rated originals.  We are so excited about this opportunity to entertain AMC's audience in a new way."
New Hell on Wheels showrunner, John Wirth, teases that the new season "will be a western about work -- the building of the railroad, the binding of the nation after the Civil War, and the rehabilitation of the men who lived and fought their way through those exploits. This season we're placing Cullen Bohannon at the center of the show, and taking him away from the revenge motive which propelled him into the series."
Matt Richenthal is the Editor in Chief of TV Fanatic. Follow him on Twitter and on Google+.