Mike Kelley will step down as Revenge show-runner if and when the ABC prime time soap is renewed for a third season, according to Deadline, although he may retain a consulting role with the show.
Kelley called the exit, which comes at the end of his current contract extending through Revenge Season 2, "a difficult mutual decision" between himself and the show's producer, ABC Studios.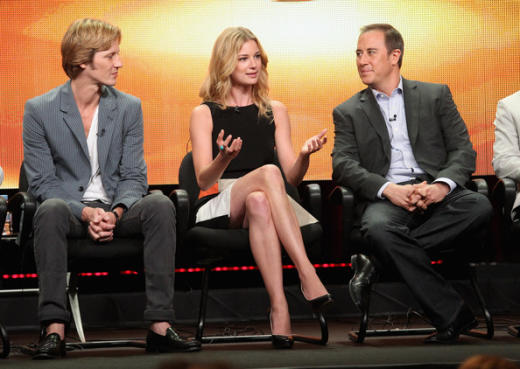 Kelley said in a statement: "Helming this series has been the ride of a lifetime, and my producing partner, Melissa Loy, and I will look back on our Revenge time with deep gratitude."
"We have so much respect for Emily (VanCamp) and Madeleine (Stowe) and the rest of the incredible cast, our heroic crew, the dedicated and imaginative producing and writing team, and the tireless post production department."
"I'm excited about finishing post production on the season two finale, which I hope will stand among the best episodes of the series thus far. Continued success to all."
Reportedly, a point of contention was that Kelley had been lobbying for shorter seasons for the serialized drama, believing that Revenge was/is better suited for cable-style orders of 10-13 episodes.
Even the most devoted Revenge fans will agree that it's been uneven creatively in Season 2, so it's not surprising to hear that Kelley felt the demands of churning out 22 episodes took a toll.
Both sides have refrained from any public comments to this effect.
"Mike Kelley created a distinctive series for our studio and network with tremendous passion and dedication," said ABC Studios EVP Barry Jossen, wishing him the best as he moves on.
As for who will succeed Kelley, the position has yet to be filled.
Steve Marsi is the Managing Editor of TV Fanatic. Follow him on Google+ or email him here.