Sci-fi and comedy rule this week as I empty my notebook with the latest intel on CBS's Under The Dome, an interesting alien relationship on Falling Skies and hilarity over at TV Land's The Exes. Let's go!
Under The Dome: The Stephen King novel-turned-series is finally here Monday on CBS and let me tell you that you can believe the hype. The show is captivating and I trust you'll be drawn into the mystery when a dome suddenly appears over the town of Chester Mills.
While there are familiar TV faces like Mike Vogel, Dean Norris and Britt Robertson, one new face is Alexander Koch, who plays Junior, the son of Norris' character. But, Koch advised me, the series doesn't necessarily follow the book. "We're going in a little bit of a different direction than the book and I think it's very good." He said.
Since this was his first major audition, Koch is also new to seeing himself onscreen. "I'm a little self-conscious," he said, "so we have the premiere coming up [in Wilmington, N.C., where the show is filmed] and I might close my eyes during my parts. I'm really a little nervous and self-conscious."
But he's not alone, as he said some of his castmates feel the same way.
And if you're wowed by the first episode, Koch teased the second one is just as compelling. "I saw part of episode two and I was actually really blown away by the special effects and it looks great. I think everyone's really pulling their weight and doing great, great work with the script." (More of my chat with Koch on Monday on TV Fanatic)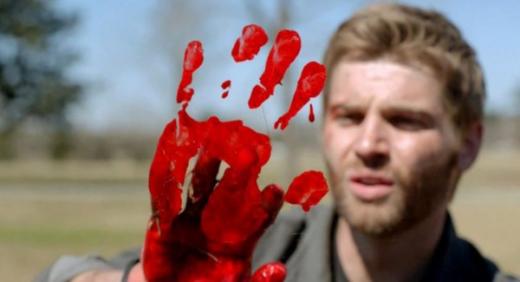 Falling Skies: Want to see just how much man and alien can emotionally connect? Watch this Sunday's episode and you'll know what I mean. "That's episode four, which is one of my favorite episodes," said Executive Producer Remi Aubuchon of what we'll see with Tom (Noah Wyle) and Cochise (Doug Jones) this week.
"I believe Doug just pulled this off so well. You see how much his friendship means to Tom, and you also see his maturity and duty as a soldier and his willingness to sacrifice himself for this greater good."
The episode also features Stephen Collins (7th Heaven) as the President, who summons Tom and Cochise but is it a matter of good or not-so-good? Tune in Sunday on TNT at 10 p.m. and find out!
The Exes: The third season of the TV Land sitcom started this week and while the show focuses on three divorced men living together, they get a boost of hilarity from the always-awesome Kristen Johnston. In fact, Holly's love of 'the exes' gets in the way of her love life – or maybe vice versa – in the June 26th episode. Her BF, played by Diedrich Bader, is having some issues with their relationship.
"The reason is because I miss the guys," Johnston told me at a recent party in Hollywood celebrating the show's third season. "I only want to hang out with the guys and so I lie to him because I want to play poker at the guys' apartment." Watch for physical comedy when Holly has to go to extreme measures to keep the secret from her BF.
One thing that's not a secret is Johnston's joy over the series. "The only thing I know for sure is it's every bit as good as 3rd Rock [from the Sun, her 90s hit sitcom]." Of working with her co-stars David Alan Basche, Donald Faison, Kelly Stables and Wayne Knight, Johnston gushed, "The chemistry in the cast is pretty remarkable. Whether [The Exes is] a success or not is irrelevant because I feel like I've hit the mother lode."
The Exes airs Wednesdays at 10:30 on TV Land.
That's a wrap for this week! Anything else you're dying to know about your favorite show? Leave a comment or email me directly at jim@jimhalterman.com. And remember: follow @TVFanatic for all your TV scoop!
Jim Halterman is the West Coast Editor of TV Fanatic and the owner of JimHalterman.com. Follow him on Twitter.