It's that time of year - and I'm not talking about the upcoming July Fourth weekend.
Comic-Con 2013 kicks off on July 18th in San Diego and while we've been keeping you updated on the schedules of the various networks (such as MTV) and studios (such as Warner Bros.), you'll already want to bookmark TV Fanatic because we'll be covering as much of the Con as we can.
In the meantime, I'm emptying out this week's Notebook with Noah Wyle telling me about this Sunday's high-stakes Falling Skies episode; Lamorne Morris's hope for New Girl Season 3; and whether Royal Pains is going to go dark soon.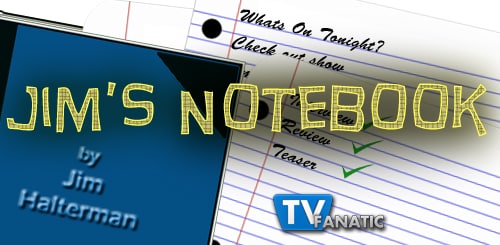 NEW GIRL Though the hit Fox sitcom's third season hasn't started filming yet, Morris filled me in at the recent ATX TV Festival on what he'd like to see with Winston, even pitching a hot cameo for the show this fall.
"I want to see them dive more into his basketball past," he told me. "I would love to shoot some episodes where the guys are just maybe hanging out and, like, LeBron James shows up as my former teammate, you know what I mean?"
Hopefully New Girl creator Liz Meriwether is listening because Morris also pitched the following: "Maybe Jess starts to date an NBA player and so this way we get to film some episodes at a game. That would be awesome." He'd also like to see more of Winston's "dumb characteristics, where it's like I don't have a pranking sweet spot," he said. "That's right in my wheelhouse. I love being an idiot, you know what I mean?"
FALLING SKIES In Wyle's own words, things are going to "boil over" in this Sunday's episode of the TNT sci-fi drama between his Tom Mason and Pope (Colin Cunningham). The two men have never been friends but they find themselves in a tough situation this week and Wyle told me about it at the recent press junket:
ROYAL PAINS With the new, noticeably darker series Graceland making waves at USA, does that mean for the more traditional 'blue skies' series like Royal Pains? I asked Executive Producer Andrew Lenchewski that very question recently and he's not too concerned:
"I think what we love about the network is that as they continue to evolve who they are as a brand, they continue to encourage us to still be who we are. So, none of the things that they have told us as creative guidance from the first four seasons has changed this season. They still want us to focus on our characters, make sure we tell our medical stories, make sure that we don't depart too far from the tone of our show."
This said, that doesn't mean that the stories on the show won't veer down a slightly darker, emotional path than we usual visit on the long-running series. "The storyline we're playing with Hank," he said, "is something that might have been tougher to swallow the first couple of seasons. I think we're getting the best of both worlds."
That's a wrap for this week and I'll be taking next week off so see ya back on July 12th! Anything else you're dying to know about your favorite show? Leave a comment here or you email me directly at jim@jimhalterman.com. And remember: follow @TVFanatic for all your TV scoop!
Jim Halterman is the West Coast Editor of TV Fanatic and the owner of JimHalterman.com. Follow him on Twitter.