Creator Bryan Fuller scared up some serious scoop at Comic-Con last night regarding Hannibal Season 3 and what fans can expect next year from this wildly underrated NBC drama.
For starters, the show will jump ahead one full year from events that concluded Hannibal Season 2.
It will also change up its format a bit in the process.
"The entire first half the of season is relatively FBI-light," Fuller said. "It's all about the pursuit of Hannibal... The first episode is very much like a pilot for a new series starring Mads Mikkelsen and Gillian Anderson."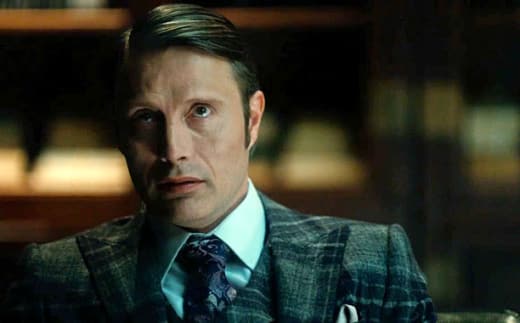 As for the biggest surprise, Fuller said Raul Esparza (who plays presumed dead Frederick Chilton) will actually "huge part of Season 3."
"I can't believe how much people fell in love with Chilton this season," Esparza told the crowd. "I love playing the part because he's a total douchebag."
Eddie Izzard will also return, via flashback, that is.
Fuller teased a number of new character on the way as well, all of whom will be known to fans of the novel Commander Pazzi (in Episode 2), Lady Murasaki (in Episode 3) and Cordell (in Episode 4).
What about the truly major new character fans hope to someday meet?
Producers are working to get the rights to Clarice Starling from MGM: "I want to complete the story," Fuller said.
And the story, of course, always comes down to Hannibal and Will.
They have love for each other," Fuller said. "It's not necessarily a sexual love, but they absolutely have a pure, genuine love for each other, which is why this situation becomes so complicated."
NOTE: you can watch Hannibal online prior to its return in early 2015.
Matt Richenthal is the Editor in Chief of TV Fanatic. Follow him on Twitter and on Google+.