Yul Vazquez is a man of many talents. The actor and musician has been on numerous television series including Seinfeld, Magic City, and Bloodline and in films such as Captain Phillips and The Infiltrator.
On Midnight, Texas he plays the Rev who, like many inhabitants of the small town, has a dark secret. While the Midnighter team knows he turns into a weretiger on the full moon, they don't know he's keeping a secret for Joe. 
How long will the quiet and mysterious Rev keep Joe's secret? Vazquez talks about that and more below!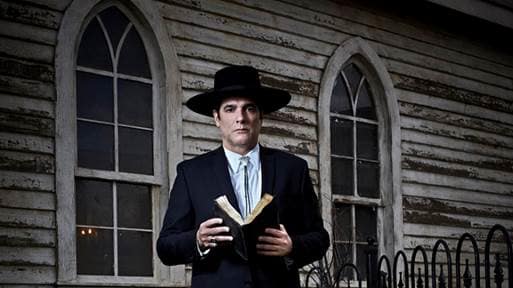 TV Fanatic: Why did you want to become part of Midnight, Texas?
Yul Vazquez: They sent me the pilot script and asked me to look at the part of the Reverend. I looked at it, and I thought, you know, this is something I really would like to do.
I thought there were a lot of things from my personal life that resonated with me and I had a fantastic conversation with [executive producers] Monica Breen and David Solomon, and we all felt we were on the same page with this, and so we decided to do it.
What's the biggest challenge you find in playing the Rev? He's a kind of a quiet guy.
The Rev is a quiet, mysterious man. You know, what I had said to them was that I really felt the Rev is a man of great economy. Like the Rev only speaks when he has something important to say. There's nothing extra about him, which I thought would play great when he becomes the tiger because there's such a duality that he struggles with.
And when he is the Rev, he's constantly in turmoil about what he was born as because he was born this weretiger. He's been in conflict his whole life about these two sides of him. One is incredibly violent, and the other one is not which is why he becomes a Reverend. The challenge was to dial him right, and I think we found a really great balance.
Is there anything special you did to prepare for the role?
It's the nature of television that you don't know what scripts are ahead of you, so all I initially had was the pilot script. So my thing with the pilot was to play this man, he does not reveal himself, he does not tip his hand ever. He's very guarded.
Everything is minimalist with him, so that was a personal challenge for me, that's what I was interested in doing. I'm a firm believer in less is more traditionally, especially in acting.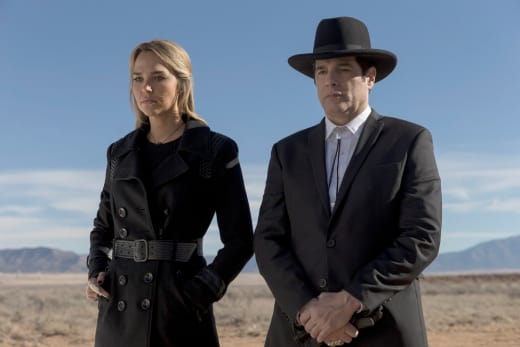 He seems to have a special bond with Olivia what can you tell us about that relationship.
Olivia is the one that he turns to chain him up and keep him in there. They go way back. She's a badass, and he knows that if anything goes wrong where she needs to stop me, he knows that she can take care of the situation.
The Rev is keeping a big secret from the rest of the group. Why is he being so loyal to Joe?
The Rev is loyal to everyone. He's a reverend. You have to understand, if you go to a priest and you confess, that confession is sealed. You can't even subpoena a priest in a court of law, but you'll see in [Midnight, Texas Season 1 Episode 6] that he can only take so much.
What can you tease us about tonight's episode?
I can't really tease a lot. [The episode] is a lot of stuff. On [Midnight, Texas Season 1 Episode 5] stuff starts to hit the fan. On [Midnight, Texas Season 1 Episode 6] the Rev can really only take so much.
What happens is it begins to infringe on his own oaths and vows that a man of the cloth takes. You'll see. The show begins to ramp up now really, really heavily, and it culminates...you'll see. It's wild.
Everyone in Midnight has a mysterious past. Can you share anything with us about The Rev's past and how he ended up in Midnight?
He went searching and found Midnight and decided to settle there. He is one of the oldest inhabitants of Midnight. He's been there the longest. You know, people like Rev and Lem have been there longer than anybody. Lem and the Rev are old friends actually.
The Rev has been there before pretty much anyone, and they all began to come there, and in many ways, the Rev is the moral compass of the town, so you know he'll watch a lot of things in the town go down.
They all come to the Rev for advice and for guidance. The Rev will never steer you wrong.
What's one thing fans might be surprised to learn about you? The Rev?
About me personally...I'm a fantastic kisser. A little-known fact. No. I don't even know what that means. About me personally is that I sort of began my artistic career as a guitar player. I'm multi-faceted. I'm a photographer. I paint.
Acting is one thing I do which I love, and it's my love.
About the Rev, the thing people will be surprised about the Rev is that he can open a can of whoop ass on somebody before they even know it. You know they don't see it coming. He's such a reserved guy, but if you watch the Rev, he's very, very measured.
You know how those quiet people can turn real ugly on you?
Yes, I do. [laughs]
Yeah. [laughs]
So the Rev is one of those people? Okay.
Here's the thing. Everything has a limit, you know. When pushed too far, everything has a limit.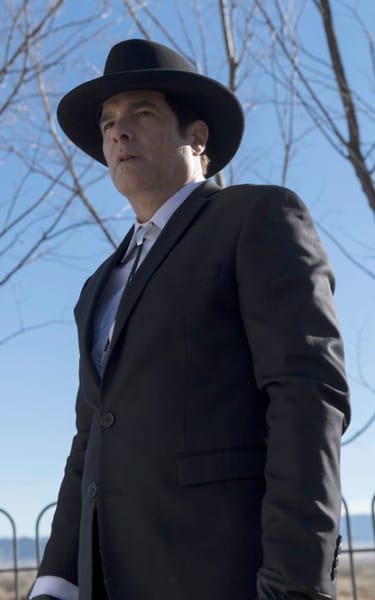 We're always fascinated with how people came to do what they do. What was it that got you into acting? What caused the bug to bite you?
I was a little kid when I came here from Cuba with my mother. My mother was an actress. When we came to Miami from Cuba, my mother became a member of a theatre company that was comprised of Cuban exile actors. And so when I was a kid and whenever they were doing a play, and there was a kid, they threw me in there.
I never wanted to be an actor. I wanted to be a rock star. I was a guitar player. And my grandmother, oddly enough, worked at a box office of a movie theater for 35 years. My grandmother would talk to me about all these actors, and I never knew who they were, and quite frankly I didn't really care very much because all I wanted to be was a guitar player.
So I became a guitar player, and I started making records, and I toured all over the place. And then acting comes back into my life in a very interesting way, and I begin to take this acting class in New York. And then six months later, I got a job in a movie and left the band and haven't been in a band since.
I just gave you the Cliffs Notes version. I've always been a guitar player. I play guitar every day. I have a lot of guitars. I'm surrounded by art most of the time and art-making tools – or hell-raising tools, if you will.
That's fascinating. Thank you for sharing.
Thank you. That's not a question I get often.
You can also see Vazquez in his new film "Crown Heights" which is currently in theaters, "Last Flag Flying" opposite Bryan Cranston, which opens at the New York Film Festival on September 28, and Nash Edgerton's "Gringo" opposite Charlize Theron and David Oyelowo opening March 9th, 2018.
Midnight Texas, "Blinded By The Light," airs tonight at 10/9c on NBC!
If you need to catch up, you can watch Midnight, Texas online right here via TV Fanatic!
Lisa Babick is a staff writer for TV Fanatic. Follow her on Twitter.