Crikey! It's the Irwins - The Family Carries on Steve's Legacy

Kim Russell at .
Steve Irwin, The Crocodile Hunter, is well known around the world for his fierce love and respect for animals, his conservation efforts and the enthusiastic presence he showed on TV.
You can probably hear him right now saying, "Crikey, isn't she a beaut?!," as he held a venomous snake by the tail or approached a hungry crocodile by the water.
Sure, Steve did some crazy things, approaching dangerous wildlife nobody would go near on purpose.
But his purpose was not to show off what he could accomplish with wild animals or how far he could push his luck. The reason he interacted the way he did with wild animals was to educate and to show people how these animals behave in the wild.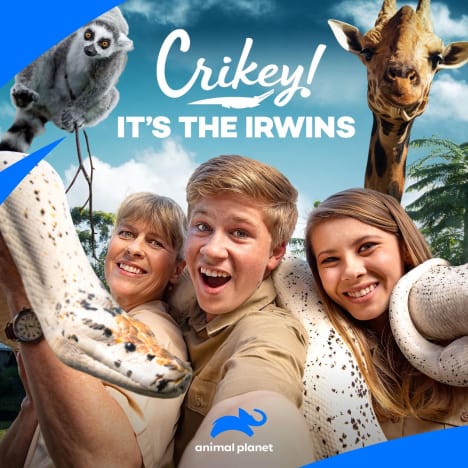 Armed with that knowledge, he dreamed that people could live peacefully alongside animals. A dream his family shares.
Even now, 12 years after his death, the Irwin name and Steve's conservation effort is known and loved around the world.
Related: Enjoy UNLIMITED access to thousands of Movies and TV shows with Amazon Prime Video. WATCH ANYWHERE. CANCEL ANYTIME!
When Steve tragically died during the filming of a documentary in 2006, he left behind a wife and two small children.
The four members of the Irwin family were involved in animal conservation and had a hand in developing the Australia Zoo before Steve's death. Even Robert was involved, and he was only two years old at the time.
Now Robert is 14 and beginning to handle crocs on his own with training from Steve's best mate, Wes.
If you're familiar with The Crocodile Hunter you know Wes was by Steve's side at the zoo and beyond. They saved each other's lives more than once. Wes is still there with the family teaching them everything he learned from his years at Steve's side.
But the Irwins are no strangers to wildlife. Their lives have always revolved around it, and that continues now.
Both Bindi and Robert have involved themselves in TV animal shows for the last 12 years.
Bindi had her own show on Discovery Kids called Bindi, the Jungle Girl where she, you guessed it, interacted with animals and educated her audience.
She also co-wrote a series of books entitled Bindi Wildlife Adventures.
Robert was also involved in a series on Discovery Kids called Wild But True. More recently he introduced exotic animals on Jimmy Fallon's late-night show.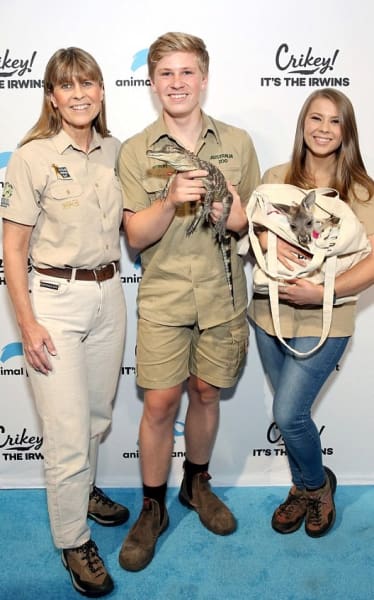 Terri, Bindi, and Robert all live at the Australia Zoo and have spent their time after Steve's death building up the zoo and the wildlife hospital. The African exhibit, which existed only in Steve's imagination, is now a developed part of the zoo filled with rhinos, zebras, and giraffes.
The three remaining Irwins have been busy making Steve's dreams become a reality.
Now, they're starring in their own program on Animal Planet called Crikey! It's the Irwins where they continue Steve's legacy.
All three are wearing classic Steve khaki outfits and have named the show Crikey!, after Steve's catchphrase.
Related: Get Hallmark Movies Now via Prime Video Channels for Stories with Heart, Captivating Movies & More!
Watching the show, you can feel Steve's presence permeating every part of the family's life. His words and his voice are marbled throughout.
He may be physically gone, but he's very much a strong presence in all of their lives.
What a tribute for a family to carry on honoring their fallen and dedicating their lives to making his and their dreams come true.
Crikey! It's the Irwins Season 1 Episode 1 opens with Steve talking about his children and how he will be ready to give up his dream of conservation when his kids are ready to take over.
He gets teary-eyed, so bring tissues. What a big heart.
I'm sure he'd be ecstatic to know that his children and his wife have done just that.
The show follows the Irwin family's life around the zoo. It centers around the animals who live there and how they interact and care for all the different species.
The thing that makes the Australia Zoo special is that it's interactive. A visit to the Irwins' zoo is an immersive experience because they want people to fall in love with wildlife.
If people connect with wildlife and learn their behaviors, they'll more readily be able to live alongside them because every creature is important.
Related: Get HBO via Prime Video Channels for Addictive Dramas, Hilarious Comedies & Hit Movies!
And that's everything the Irwins stand for.
Crikey! It's the Irwins airs on Animal Planet on Saturdays. The first episode has aired, but you can catch up with the full episode on Animal Planet's website.
Tune in to see how the Irwins have kept themselves busy. It's guaranteed to have you wanting to hop on the first plane to Australia and get face to face with the animals who live there and the people who've made it all possible.
Kim Russell was a staff writer for TV Fanatic. She retired in January 2019.