Gary Goldstein & Ruth Clampett Make Christmas Bright with PassionFlix's Mr. 365

Carissa Pavlica at .
Even though a lot of people like to pretend they don't pay attention to their more romantic sides by watching networks like Hallmark, UP, Lifetime and others, we know you can't ignore a story with a happy ending.
Gary Goldstein has been writing some pretty terrific movies of the genre while Ruth Clampett has made her name with books of a similar nature. One of her most appreciated works is Mr. 365, featuring the story of a man who lives Christmas year around and the woman who wants to put him on TV.
Goldstein optioned the book for a screenplay, and this season you can find it on PassionFlix. If you haven't heard of it, there is no time like Christmas to treat yourself to a free trial so you can see what it's all about. Hint: It turns up the heat a little!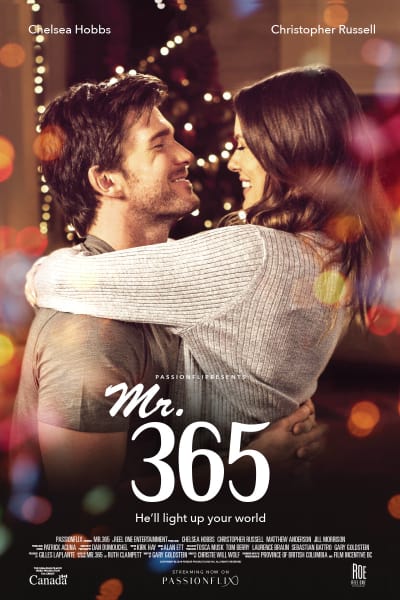 I had the opportunity to ask both Mr. Goldstein and Ms. Clampett some questions about their thoughts on the movie, what it was like collaborating, and more. Please enjoy learning more about Mr. 365 below!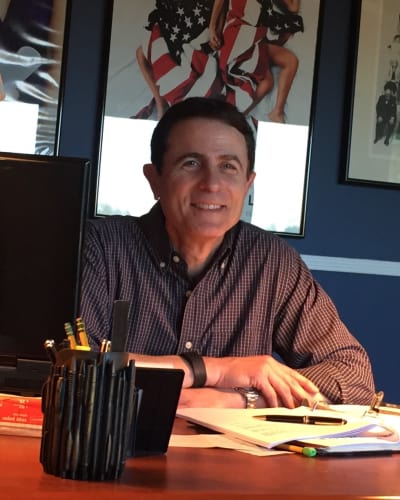 What did you like about "Mr. 365" that made you want to option the book for a movie?
Gary Goldstein: I thought it was a really fun story with great characters, but I especially liked the whole reality TV aspect, which was an arena I'd never seen in a Christmas movie. I felt that element, along with the Christmas-every-day idea, could make it a different kind of holiday movie, yet it still had all the charming, romantic, Christmassy things that make these films work.
Did you always imagine it would play around the holidays, or do you feel the movie, like Will celebrates Christmas, could be enjoyed any time of the year?
GG: I always saw it as a holiday season movie since that's when the book largely takes place plus I think these films tend to work better if set over a more compressed period of time. Now, if we did the mini-series…
You're not new to the romance genre. What's the difference writing for PassionFlix compared to penning a Hallmark movie, for example?
GG: There's just more freedom with a subscription service like PassionFlix to be, well, more "passionate" in telling a story, more romantically authentic, if you will. The book of "Mr. 365" was really lively and sexy and I think I was able to capture its spirit more fully here. At heart, the networks just have different mandates, so you write to your audience.
Can you share an example of a scene from Mr. 365 that you would have written differently for a commercial network?
GG: I think it's safe to say that the scene where Sophia and Will start to get hot and heavy in the kitchen would have ended a whole lot sooner than it does now, if it even existed at all!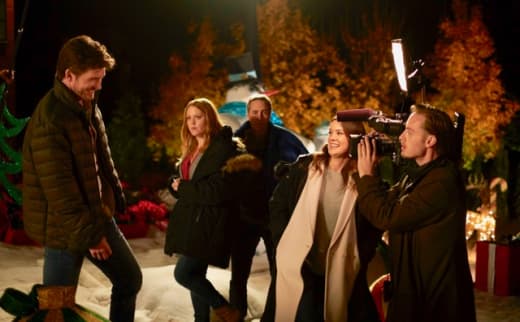 You joked with me that (to put it a different way) Christopher Russell, who plays Will, could turn my frown upside down. How did the casting of Russell and Chelsea Hobbs as Sophia work to your benefit?
GG: They were great choices: perfectly cast and really talented. They're also both super attractive but, I think, in a very real and accessible way. So, as much as viewers may be drawn to them, it's also totally believable that the characters would be so into each other.
Much of that also has to do with Chris and Chelsea's kind of natural chemistry. That's not always the case in these movies. We were lucky.
On another note, as someone who writes a lot of comedy, it's so gratifying when your actors (and this applies to the supporting cast here as well) get the humor you're going for, know how to make it work and even add their own unique spin on it. Again, it's not always the case and it can make such a difference.
What kind of collaboration was there between you and Ruth Clampett for the screenplay?
GG: A very close one, actually. We'd stayed in touch over the last few years as I renewed my option on the book. And once "Mr. 365" found its home, with Reel One Entertainment and PassionFlix, and we were off and running, Ruth gave me excellent input on my script outline and very helpful thoughts later about the script itself.
GG: It was important to me that, despite any deviations I had to make from book to script, that I kept the book's tone and spirit intact as much as possible. I wanted to be sure to honor Ruth's work as well as her many readers and fans, who also seem to align with the PassionFlix audience.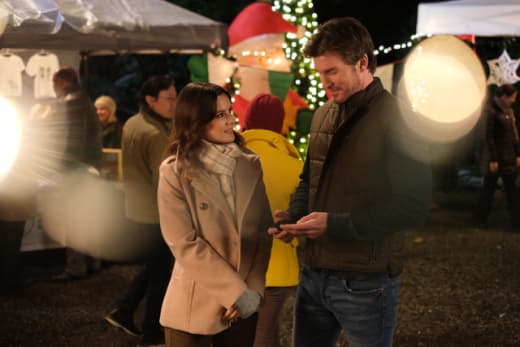 So far, what has the reception been like on PassionFlix? Can we look for more of your work on the service?
GG: Viewer comments have been great, we're all very happy. I don't have anything new planned with PassionFlix just yet, but Ruth and I would like to collaborate again on maybe one of her other novels so you never know!
What happened to the "Flower Shop Mysteries" on Hallmark? Are they gone for good?
GG: As far as I know. But I really enjoyed writing those first two films in the series ("Mum's the Word" and "Snipped in the Bud."). They were fun, twisty books to adapt and I liked the "puzzle" part of figuring out how to make all the mystery elements work for a film.
What did you think of Gary's interpretation of your novel for the screenplay?
Ruth Clampett: I loved Gary's screenplay. It's not an easy task adapting a novel which requires keeping the story arc, characters and tone of the book while cutting or adjusting scenes to work best in the film format.
In our first meeting with our producer, Laurence Braun, we went over the changes or cuts that each of us had identified from the book and we were all in sync. I knew then that this was going to be a collaborative and positive experience.
His final script has so many wonderful elements: smart and dynamic dialogue, a romantic tone that encouraged the leads' great chemistry, a great mix of laugh-out-loud moments, as well as moments that pull on your heartstrings. He did a wonderful job and the terrific response with viewers has been very gratifying.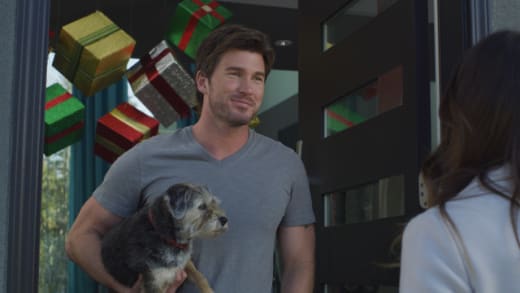 Talk about the first time you saw the cast speaking the dialogue you had written and the Mr. 365 house all decked out for Christmas.
RC: Honestly it was an emotional moment for me in the best way. These characters have always been very much alive in my head, but thanks to our casting success this talented cast gave a special spark to each character.
One of the sweetest things I realized after watching the final cut was that I was so swept up with Chris and Chelsea's portrayal of Will and Sophia that I was no longer the author, but a romance fan who had fallen for this couple with all of the swoons and happy sighs.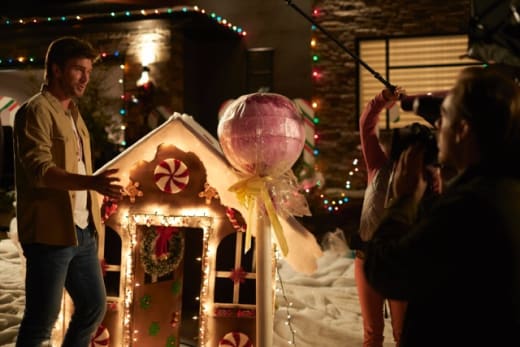 What do you wish could have made it into the movie if there had been more time?
RC: In the book, Will's house is almost a character in itself in the way it's decorated with movie-prop level elements and design. More time may have allowed us to do more over-the-top decorating, though what was in the book was, frankly, a bit tough to fully duplicate.
But thankfully, in my opinion, this challenge didn't hurt. What mattered most about this story was two people falling in love and learning what matters most in life.
What are the next two books you want to see on screen?
RC: If we are talking about my books, my first choice would be Animate Me, a story about a talented but shy animator who is in love with his studio's director of development from afar. My father was an Animation Director at Warner Bros. so I grew up in the cartoon world. It's a fascinating place which would lend itself well to film, including bits of actual animation.
I would also love to see Burn, a story about a tough female firefighter who befriends her lieutenant (she is the only woman in an all-male fire station) and through the drama of putting their lives on the line while saving people, they grow close and save each other.
I have a lot of author friends in the romance world and there are so many wonderful stories that would make great films. I think the industry is starting to see that just as romance readers have made a huge impact in the last number of years in the publishing industry, there is a huge opportunity in the film industry to create more films geared to that audience.
I couldn't be more delighted that we are part of that movement with "Mr. 365's" contemporary, fresh take on Christmas romance.
Carissa Pavlica is the managing editor and a staff writer and critic for TV Fanatic. She's a member of the Critic's Choice Association, enjoys mentoring writers, conversing with cats, and passionately discussing the nuances of television and film with anyone who will listen. Follow her on Twitter and email her here at TV Fanatic.