Philly Comic Con's Dynamic Duo

An Nich at . Updated at .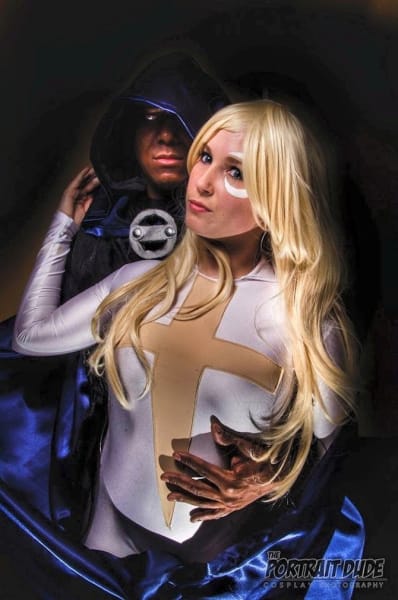 This weekend's 
Wizard World Philly Comic Con
doubles  down on Cosplay with the dynamic duo of costume play, KnightMage and SuperKayce. SuperKayce and KnightMage are like the Cloak and Dagger or the Emma Frost and Cyclops of Cosplay. They go together like Peanut Butter and Jelly, Milk and Cookies or Wine and Cheese. They are both ridiculously adorable in their mutually supportive cospartnership.
They both joked their friendship started when she fangirled over him at a convention. However, a 'Cloak and Dagger' cosplay officially catalyzed their partnership which includes 22 costume match-ups, an annual Christmas charity tour  and over $1000 raised for charity. Like siblings, Kayce enthused her support of KnightMage, calling him a "creator," while he joked she's only friendly when they're interviewed.
Individually, they are equally surprising. I watched KnightMage's cosmetic demo on the Creative Stage in the exhibition hall. I am incredibly lazy when it comes to makeup. But, KnightMage had a look of pure joy on his face as he slowly transformed his subject, a mother of two, into a mildly psychotic clown over the course of an hour. In the end, the incredible delight she displayed in the final product and his earnestness in exhorting  the audience to approach him anytime at his booth with questions, shows his dedication to his craft. He admitted that his makeup concentration is his "me time." I love that KnightMage exists as a Black male in the cosplay world where both his gender and race are inexplicable minorities. Kayce stated she felt he should get more props for that. As an African-American female I initially thought I should only cosplay as minority figures like Uhura or Storm. He admitted he felt that as well. Although Guy Gardner is his favorite Green Lantern (I know, I judged him,  too), he stated he initially cosplayed as John Stewart (as he thought people would accept that moreso). But, now he cosplays as everything.
I just want to shout out to SuperKayce's incredible strength. Because cosplay women portray figures that artists hypersexualize on the visual plane, it is easy to understimate their capabilities. However, Kayce is super smart. SUPER SMART. When asked about what she looks for as a cosplay judge she spit out numerous details rapidfire including "creativity, originality" and who loves the character. Then, she listed her expectations on a larger scale. She kept the conversation going and frequently gave KnightMage numerous big ups. When I admitted I planned on doing cosplay this weekend for the first time and they should totally ignore me, she wisely gave me a mental fistbump instead. I can't speak enough about SuperKayce's intelligence and her cosplay ferocity. I shouldn't have to point it out, but sometimes we forget cosplay actresses work superhard. There are numerous talented tailors and numerous people with strong marketing brands, but to get recognized nationally by various comic conventions and invited as a judge takes it to the next level. So, RESPECT.
For additional questions they allowed me to ask, see below. Give them triple bonus points for fan generosity. They were both so down to earth and ridiculously giving it was amazing. Sometimes we forget that people with a significant talent are, you know, human. So, support them and all of their charity causes!
How do they maintain their costumes?
Evidently, renowned cosplayers are hoarders just like us. Kayce has a dedicated room in her house while KnightMage has a storage unit which Kayce called his "bat cave." Although Kayce retired some of her items, KnightMage admits they're his "babies" and fears he might want the costume afer giving it away.
What do they look for when judging?
In addition to her detailed explanation above, both Kayce and KnightMage stated that for smaller conventions they want the people to make themselves known and to "enjoy the costume." KnightMage especially loves seeing people happy in their costumes. 
What's the difference between their costume style?
KnightMage sticks to a $250 and under price point while Kayce has no financial ceiling. Kayce also pointed out they have the "10 foot" rule where KnightMage is more performance based, rocking larger items people can see from far away, while she focuses on details and tight seams that people can't see until they're closer. Her Emma Frost costume was amazing. Her boned corset was so perfectly detailed I thought it'd be rude to ask if she sewed it. 
What do they love about cosplay?
Both enthused the "close knit" community joking at the social awkwardness of comic cosplayers while Kayce discussed her close cosplay friendships of 10 years.
Wizard World Philly started on Thursday, 6/13, and runs until Sunday, 6/16. You still have time to get tickets.
Check out the Dynamic Duo at Philly Comic Con and their various social media sites -
SuperKayce:
KnightMage: