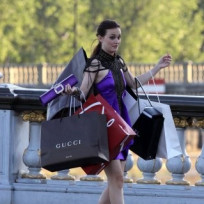 aridney . shipping the *itch since '07 //
I'm a dedicated CHAIR fan who has the tendency to rant.
Not even selling his beloved to the cruel JackAss can make me truly hate our one and only Basshole, but put him with Jenny for a show and I want to rip his hair out (however still lovingly, because Queen B doesn't want a bald boy-toy). Blair is of course my living fashion idol and in my mind she can't really do anything wrong [I know she does sometimes, but still!]. These two are by far my favorite characters and I love what the writers have done to them, the most complex and brilliantly developed. The writer's sometimes have no idea how to deal with their intense characters, and they don't try very hard. But what can you do? // Chuck Bass, I can't tell if I want to throw you off a cliff or stick you in bed with Blair. But please, never give up on your girl. At the end of the day, she is yours, and we alllll know it. As you can tell by my display name, I ship BLAIR WALDORF. I want her happiness, but I do believe, that she is at her best with Chucky-poo. But her marrying Monsieur MonteCarlo, I can get on board with a royal wedding;)
Derena / Serenate ? What's the difference ? With Serena and Nate it's just staring at each others hair to look at themselves. And with Derena all I watch is angst/secrets/conflicting social status cliches. So I really don't care. I like Serena regardless of who she's with. I like Serena when she's not blindly loving her wussy man of a father, Will-i-am-an-ass. Keep on being a cleavage-showing blonde-bombshell. Oh Daniel, I do love him and he's just an average character, smart but sometimes obnoxious. Not much to say about him. -Rolls eyes at writer's attempt and prevailing Nathaniel- God, sometimes I love him, other times I'm like; remind me why you're on the show ? But it just depends on the show really and whether or not the writers have given me appropriate Chair.
ERIC vanderWOODSEN :; The smartest and wisest character on Gossip Girl. End of story.
Now Jenny Humphrey people generally don't like, but I personally think she adds character to the story. She's a whore with raccoon eyes, her newest hair style really bothers me, and she's just a runaway bitch with family issues. But overall, she's pretty damn great. She makes the show interesting. And I can't wait for her reappearance. RIP. Lil' J. We'll miss your hair extensions.
Vanessa Abrams: DOES NOT BELONG ON THE SHOW. SHE'S GONE! xD I AM AS HAPPY AS A CLAM. TATA BEE-OTCH.
P.S. the icon is B doing some serious retail therapy;]
Member Since: