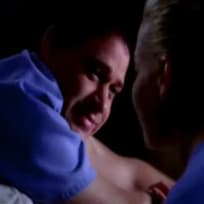 drcookchick
Favorite TV shows: Grey's Anatomy, Joan of Arcadia, Friends, Whose Line Is It Anyway?, Knight Rider (new version) and Dexter.
Favorite YouTube shows: The Allen and Craig Show, What The Buck, Dan Brown Universe and Ethan's Adventures.
I will watch anything with the following actors/actresses: T.R. Knight, Patrick Dempsey, Justin Chambers, Heath Ledger, Johnny Depp, Michael C. Hall, Bill Pullman, Tom Hanks, Jennifer Anison, Chyler Leigh, Katherine Heigl, Sandra Oh, Kate Walsh and Sandra Bullock.
Music: Green Day, John Mayer, David Cook, David Archuleta, Rob Thomas, Matchbox 20, Robert Palmer, Rick Springfield, Def Leppard, Maroon 5, Josh Kelley, Michelle Branch, Lifehouse, Blake Lewis, Matt Nathanson, O.A.R., Vertical Horizon, Marc Anthony, Bryan Adams, Bowling For Soup, Daughtry, Saving Abel, U2, Evan and Jaron and The Fray.
Member Since: