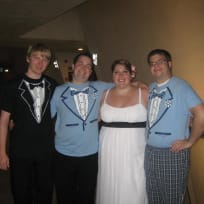 Richy
Watch a lot of TV shows... One of my many hobbies.
- Chuck, Castle, Glee, No Ordinary Family, Survivor, How I Met Your Mother, Two and a Half Men, Raising Hope, Dexter, Living Dead, 30 Rock, The Office, The Big Bang Theory, Blue Bloods, Nikita, Terriers, True Blood, Smallville, Big Love, The Simpsons, Family Guy, Lie to Me, Weeds, Parenthood, Rookie Blue, The Amazing Race, Justified, Southland, The Defenders, Law and Order : SVU ; LA ; CI, Spartacus, Breaking Bad, The Mentalist, Hung, Nurse Jackie, Eastbound and Down, Hell's Kitchen.
I mostly like crime dramas, comedies, fantasy and supernatural shows. I'm in my midtwenties with my best friend who is a black lab/border collie named Remus.
Member Since: