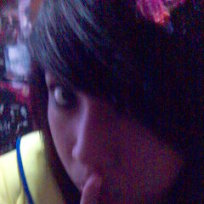 ♫♥scenequeenvana♥♫
♫♥nirvana is the name.♥♫
birthday-> .may.20.1993.
hobbies->tv, internet, reading, maggupit ng buhok ko, mag pikshur, magkutingting ng kung ano ano...
favorite books->kahit ano! i love reading...
favorite movies-> yung mga madugo, psychological thrillers and mga comedy na mukhang pinag-isipan...
favorite tv shows-> gossip girl,project runway, tmz, chelsea lately, the dish, the tyra banks show, e! news, daily 10, beauty and the geek, split ends, csi, criminal minds, justice, azumanga daioh...
favorite music-> hardcore, thrash metal, speed metal, black metal, death metal, grindcore, metalcore, emo, screamo, post-hardcore, electronica, dance rock, alternative chuvaness, powerpop, old skool punk, doom metal, rap metal, nu metal...
i love fashion.
i have my own style and i don't give a shit whether you like it or not.
i don't care about trends, i wear anything i like.
fuck rules.
style has no rules.
i love music so much.
i'll be dead without it.
unfortunately, no one cares enough to teach me how to play anything.
that sucks.
i love a lot of genres, and i don't limit myself.
i always try something new.
i don't care about fads, and i don't discriminate between what's hot and what's not.
if i like it, then i'll listen to it.
i'm scared of heights.
i hate insects.
i hate flirts.
and stuck-ups.
i love to eat.
i'm an outcast since pre school.
things didn't change much about how people treat me.
they laugh at me because i'm different.
well, i laugh harder than them because they're all the same...
i'm nice to you if you're nice to me.
if not, i can get really nasty...
and please....
don't fuckin call me emo or anything.
i'm not.
i'm just myself.
DONT LABEL ME, AKO LATA.
ailabyu.
ailabyu.
ailabyu.
ailabyu.
ailabyu.
ailabyu manu.
Who I Want to Meet:
Member Since: