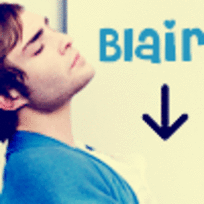 xYouKnowYouLoveMex
Hey. My name is Renee.
I just graduated high school.
I'm 18 and from Philadelphia.
HARRY POTTER is my main obsession, but of course GOSSIP GIRL follows.
I support CHAIR and SERENATE.
My favorite movies are; HARRY POTTER, CRUEL INTENTIONS, WANTED, HIGH SCHOOL MUSICAL 3, ACROSS THE UNIVERSE, SHAUN OF THE DEAD, 28 DAYS LATER, QUARANTINE, ZACK AND MIRI MAKE A PORNO, and DISNEY'S HERCULES.
My favorite bands/artists are; COLDPLAY, LINKIN PARK, LIMP BIZKIT, BLOC PARTY, FRAMING HANLEY, SANTIGOLD, CAROLINA LIAR, SNOW PATROL, THE FRAY, PORCELAIN AND THE TRAMPS, TATU, SHINY TOY GUNS, YEAH YEAH YEAHS, and 30 SECONDS TO MARS.
Member Since: