Watch Veep Online
Watch Veep Season 1 Episode 2
"Frozen Yoghurt"
Original Air Date:
How does the staff try to celebrate the clean-jobs bill this week? By "normalizing" at a frozen yogurt shop.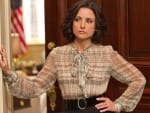 Watch Veep Season 1 Episode 1
"Fundraiser"
Original Air Date:
We meet Vice President Selina Meyer and her mostly inept staff on the series premiere of Veep. They really don't have a lot of power.