Once Upon A Time Promo: Zelena Fights the Black Fairy

Mandy Treccia at .
The Black Fairy has her eye on Zelena on Once Upon A Time Season 6 Episode 18 "Where Bluebirds Fly."
While Rumple's mysterious mama packs a strong punch, it turns out that she may not have what it takes to defeat Emma and the rest of the heroes on her own.
But Zelena's not as wicked as she used to be so the Black Fairy opts to play dirty.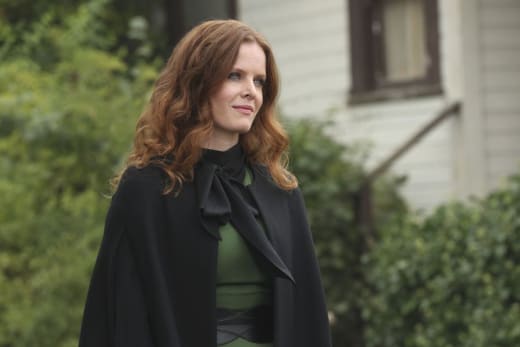 In the video below, Zelena admits the Black Fairy has threatened her daughter. While that might be enough for most people to cave, Zelena has another plan in mind.
She wants to take on the Black Fairy. And it looks like she's willing to fight to the death in order to defend her daughter.
After watching the video, we can't help wondering if Regina's going to help her sister with the deed.
Press play on the video to share your theories with us!
Why is the Black Fairy targeting Zelena? Will baby Robin be all right? Could this be the bonding moment the Mills' sisters have been waiting for?
Remember, you can watch Once Upon A Time online anytime!