S.W.A.T. Sneak Peek: Hondo's Favorite Music for Sexytime Is....

Carissa Pavlica at .
It's that time, my friends.
Yes, it's time for miracles. 
Hondo and the S.W.A.T. team are forced to work over their Christmas vacation when a drug cartel is out for blood after their cache of gold bars is stolen.
Also coming up on S.W.A.T. Season 1 Episode 8, aptly titled "Miracle," Jessica draws the attention of Michael Plank (Peter Facinelli), president of the Police Commission, when she approaches him with her ideas on how to improve the SWAT division.
But what's the miracle of which I speak, you ask? 
OK, it has nothing to do about the miracle they're talking about in the title nor does it have anything to do with drug cartels and gold bars.
This little miracle comes directly from our exclusive clip and Chris' discussion topic of choice: favorite music.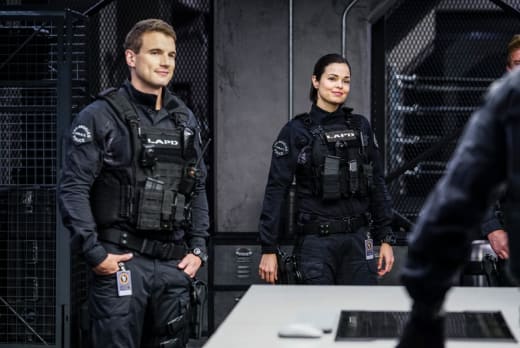 To start, Chris can't believe Street doesn't like hip hop, to which Street replies, "It's people talkin' with music in the background. Even I can do that."
Hondo steps in. "OK, Street, that is THE whitest thing I've ever heard you say."
Coming from a white girl, that's pale as they come, Street!!
Not interested in letting the topic rest, Chris pushes on with Hondo's music to live by.
For workin' out, it's west coast funk. When he's chillin', it's always the blues, but any time is always the right time for...
Well, to find that out and what's on in the background when he and his girl are doing their business, you're going to have to watch the clip. We leave SOME stuff to the imagination.
And that's just where the clip begins!! They're walking the streets for business of another sort, after all.
What do they find right after the scintillating discussion about musical influences and clues as to why Hondo is so much slicker with the ladies than Street?
A little something awkward going on in a side alley with an EMT vehicle. It's not in the right place, and it's not indicative of what on on-duty EMT should be doing.
Check out the clip right now and praise CBS for making the decision start S.W.A.T. a little later in the season. If not for that, you'd be watching nothing, let alone this amazing cast of favorites so close to Christmas.
S.W.A.T. airs on CBS Thursdays, 10/9c only on CBS! If you have missed any of the action, you can watch S.W.A.T. online to catch up.