Well, John Ratzenberger won't with Dancing with the Stars after being voted out last night.
And, sure, Joey Fatone and Ian Ziering may have stolen our hearts back in the day, but now it's all about Apolo. Here are the top five reasons why Us Magazine knows he'll win:
5. Serious Stamina â€" As a multi-talented athlete, Apolo first won our hearts as he lapped around the U.S. Olympic speed skating track to take home numerous medals of honor. Lacing up his dancing shoes certainly isn't a problem now and as for that good ol' quickstep? Apolo's always has a need for speed!
4. Apple Pie Appealâ€" Joey Fatone and Ian Ziering may have a built in fan-base of teenyboppers from their early '90s heydays, but Apolo's fancy footwork and will to win endeared him to audiences from his very first Cha-Cha.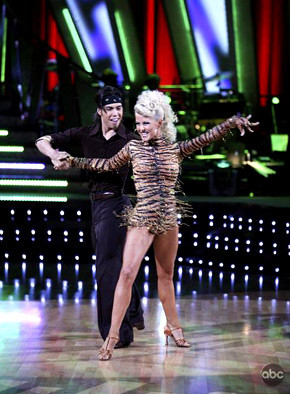 3. Hey, Apolo, You're So Fine!

â€" In recognition of his style savvy,

Us

named Apolo and his

DWTS

dudes to our "7 in '07" list at our recent Hot Hollywood Style 2007 party. With a manly bandana keeping the sweat off his brow, Apolo's signature style often features funky colors and flashy, form-fitting duds. He definitely gets a "10" from

Us

for style!

2. His Pampered Dogs â€" At the end of a grueling practice session, Apolo is one of the first to put his feet up and relax. "My feet hurt the worst," he tells Us, "I just have to put them up!" Good to know he can indulge once in a while!

1. Celebs Love Apolo! â€" He and partner Julianne Hough were favored by the judges early on as having "the most potential," and, now that America has seen his skills, support has come from far and wide. " Apolo and Julanne are the ones to beat," season 3 dancer Lisa Rinna said.

Matt Richenthal is the Editor in Chief of TV Fanatic. Follow him on Twitter and on Google+.

Tags: Dancing With the Stars