Len Goodman is the head judge on Dancing with the Stars. And People magazine caught up with him for an interview, excerpted below:
PEOPLE: Would you have picked winner Apolo Anton Ohno over Joey Fatone in a fan vote?
GOODMAN: I probably would have done, yes. I know some weeks during the course of the performances I was perhaps a little bit harsh on Apolo, but only because my expectations were so high because I thought he was such a talented dancer. I guess overall I think the right person won.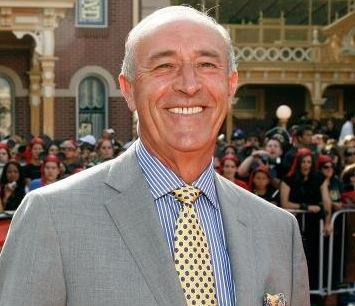 PEOPLE

: How would you evaluate the season?

GOODMAN

: I was overwhelmed by the standard we reached. The finale, I thought, was the best finale we had in the four seasons.

PEOPLE: Maksim Chmerkovskiy is on the cover of the Dancing with the Stars Cardio Workout DVD. Have you seen that and do you think that's unfair competition?
GOODMAN:My DVD isn't a cardiovascular workout, it's not expected to make you superfit â€" it's purely for people that can't dance. One of the hardest things to do is to take that first step into a dance studio. This really is just to get people to learn the basic steps and have a bit of fun indoors, and if they enjoy it then to go to a local dance school. It's like an hors d'oeuvre really, it's like a prawn cocktail.

PEOPLE: How do you think the U.S. celebrities compare with the British celebrities on Strictly Come Dancing?
GOODMAN: Everyone can dance to a degree. You find the odd celebrity that is just a naturally gifted and talented person, whereas others, you find, will struggle. I think you've had the worst dancer probably but you've also had one or two of the best, and if it came to a head to head between America and Great Britain, I think probably the Americans would edge it.

PEOPLE: Did you want to name any names?
GOODMAN: In England we had the car-driving man Quentin Willson, who I think probably was the absolute worst ever. In this season you had Billy Ray Cyrus, but that's part of the charm of the show. We like to see people struggle. You've got to put Apolo right up there as one of the best, and Joey in this season.

Drew Lachey I thought was a great dancer. From season one I thought John O'Hurley was a terrific ballroom dancer. Some of the worst: Kenny Mayne was one that was particularly terrible, and Billy Ray, I don't know how he kept coming back!

Matt Richenthal is the Editor in Chief of TV Fanatic. Follow him on Twitter and on Google+.

Tags: Dancing With the Stars