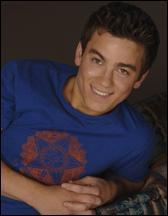 Brandon Buddy
has played has played the role of Cole Thornhart on
One Life to Live
since October 10, 2006. But that's pretty much common knowledge.
But here are a few fun facts that only the most die-hard of Buddy fans would have known before:
He appeared in a music video for New York dance band Dangerous Muse for the song "The Rejection." Brandon was initially picked for the part of a boy who rejects a girl because he's interested in boys, but at the last minute, the director brought in a friend to do the scene. You can still catch a glimpse of a shirtless Buddy changing in a locker room scene, though.
Because of his stepfather's job, most of Buddy's childhood was spent relocating from city to city, including a move to Halifax, Nova Scotia, Canada, the hometown of co-star Forbes March (Nash Brennan).
Enjoys playing football and baseball, and hanging out with co-stars in his spare time.
Here are a few memorable quotes from the actor:
"I sang in my shower before, but I've never done anything recorded like that." — On being asked to sing in Prom Night: The Musical on the show, Soap Opera Digest, 7/3/2007
"She's a looker. I was gonna go knock on her door and have a little chat, but I saw her security guard and I was [thinking], 'That's not a good idea. He would, like, kill me with one punch.' " — On nearly meeting pop star Nelly Furtado when she appeared on OLTL, Soap Opera Digest 1/23/2007
"I played until everyone got bigger than me [laughs]." — On playing football before playing jock Cole, Soap Opera Weekly, 12/12/2006