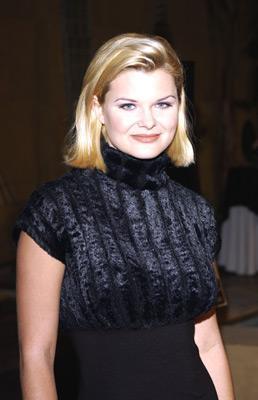 Heather Tom
is returning to the soap opera world.
The award-winning actress - who was honored twice with Daytime Emmys for her work on the CBS soap opera The Young and the Restless - will soon be appearing on The Bold and The Beautiful.
The actress earned her Emmy awards in 1993 and 1999 as Outstanding Younger Actress in a Drama Series, and received eight consecutive nominations in the same category.
Among television credits for this star are roles in the made-for-television movies Deadly Whispers on CBS and guest-starring roles on Who's the Boss?, Trial By Jury, Kids Inc. and Divorce Court.
Her stage credits include a lead role in Pinocchio II for Center Stage USA. She also starred in the Los Angeles stage premiere of The Glass Menagerie, as well as the Los Angeles production of Gila.
Tom was born in Hinsdale, Illinois, and raised in a suburb of Chicago, before moving to Seattle, where she performed with the Seattle Children's Theatre and the Pacific Northwest Ballet and studied piano at the Academy of Music and Dance.
Awards & Acclaim
Daytime Emmys Winner, Outstanding Younger Actress in a Drama Series (1993, 1999; for The Young and the Restless)
Daytime Emmys Nomination, Outstanding Younger Actress in a Drama Series (1993, 1994, 1995, 1996, 1997, 1998, 1999, 2000, 2004; for The Young and the Restless)
Daytime Emmys Nomination, Outstanding Supporting Actress in a Drama Series (2005, 2007; for One Life to Live)
Daytime Emmys Pre-Nomination, Outstanding Supporting Actress in a Drama Series (2005, 2007; for One Life to Live)
Daytime Emmys Pre-Nomination, Outstanding Supporting Actress in a Drama Series (2003, 2004; for The Young and the Restless)
Soap Opera Digest Awards Winner, Best Younger Leading Actress (1993, 1997)