As the World Turns has been on the air for decades. And while it's had its share of firsts, the soap opera is about to embark on another:
For the first time ever on a daytime drama, we're about to see a teen gay male couple. Fans have watched as Luke Snyder (Van Hansis) came out to his friends and family recently - then, a few weeks ago, the show added Jake Silbermann as Noah Mayer, an intern at the TV station at which Luke and his friend Maddie are working for the summer.
And earlier today, the two shared a kiss on As the World Turns. The website AfterElton.com talked to Silbermann about it...
AfterElton.com: As the World Turns is one of TV's oldest daytime dramas. You're making history as the first gay male teen couple on the show and, in fact, on daytime TV. How does that feel?
Jake Silbermann: I'm really proud to be a part of that kind of storyline, that kind of history. It is kind of a milestone for daytime television. As an actor, you hope you can play a role with meaning, but I never even hoped it would have this kind of significance, so I'm thrilled.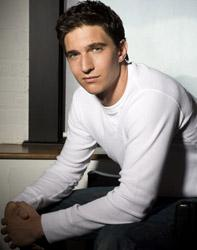 AE:

Do you feel a sense of responsibility about the role?


JS:

Just as much as I do with any role — just to play it honestly and truthfully to that character's description — but I mean, yes, of course.

AE: So often when a show adds a gay character, that's the only gay character on the show. But ATWT already has Luke, played by Van Hansis. Did Van take you under his wing and tell you what to expect?
JS: Both Van and Alex [Alexandra Chando, who plays Maddie Coleman], who I work with a lot, they've been at this longer than I have. Generally, you learn from the people around you, and yeah, absolutely, I've learned a whole lot from both of them.

AE: I assume you knew you were auditioning for a gay role? How did you feel about the prospect of playing a gay character?
JS: I was excited. It sounded like a really different role for daytime, which it is. I was really excited about that.

AE: We recently did an interview with Paul James, who plays Calvin on ABC Family's new college drama Greek.
JS: Paul James and I went to Syracuse College together.

AE: That's awesome. He told us a story about his manager telling him everyone plays gay and it's no big deal while Greek's creator Sean Smith told us there are still plenty of actors — straight and gay — who won't play gay. Do you know actors still afraid of gay roles? What are your thoughts about that since having taken the role of Noah?
JS: That really wasn't too much my experience. I know all types of people, and you always get different reactions when you tell people that you're playing a role like this. Some people are just totally supportive, and yes, some people I've encountered are like, "Really? How do you feel about that? Are you okay with that?" And I explain to them I'm an actor who's really happy to be playing this character.

AE:

Did you read with Van to see what your chemistry was like with him?


JS:

Yeah, we did. Van was present at one of our final auditions. We read together, and it was very natural.

AE: Gay fans have worried that the relationship between Luke and Noah would be treated differently than the relationship between the show's straight characters. Was there a lot of discussion about that on set?
JS: Definitely not. No one ever said to me we're going to treat this differently than a straight relationship. Nobody ever came to me. I knew the story we're trying to tell, and it has to be told the same as it would be with anybody. I mean, maybe it's a little more careful just in the sense that it is the first gay [teen male] couple on daytime television.
Lisa Lugassy (Senior Publicist for As the World Turns): If I can just interject for a second, I've listened to our head writer answer this question many times, and she's said on more than one occasion that she really feels they're telling this story the same way they'd tell any other love story, and the complaints that it's taking too long is the same complaint they hear with all other love stories as well. It's just the nature of daytime television.
JS: That sounds about right.

To read the full interview, click here.

Matt Richenthal is the Editor in Chief of TV Fanatic. Follow him on Twitter and on Google+.

Tags: Soap Operas