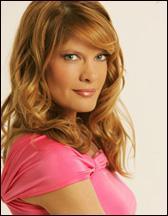 Think you know all there is to know about Michelle Stafford, the actress who portrays Phyllis on
The Young and The Restless
?
Think again.
Here are a few fun facts about the star:
In 2004, Stafford was the hockey correspondent for Best Dam Sports Show Period.
She is a big fan of the band Live.
Stafford won a Daytime Emmy for Outstanding Supporting Actress in 1997, as well as one for Outstanding Lead Actress in 2004.
"It just comes out! It's like projectile communication [laughs]." — On her notoriously racy language during interviews, Soap Opera Digest, 8/22/00
"We love doing love scenes. It's fun. You get to make out with somebody. All the time. There are no ramifications. There's no, 'You didn't call me. How come you didn't call me?' You don't have to deal with that. And you're married." — In an interview with co-star Peter Bergman (Jack), Digest, 10/16/01