Fans of General Hospital might know Stephen Macht as Trevor, but the veteran actor has a long, diverse career.
He recently spoke to Soap Opera Weekly about a variety of roles: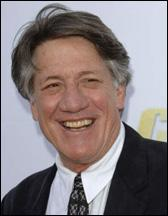 Soap Opera Weekly

: Your list of credits goes on forever. Do you have a favorite story you can share with us?

Stephen Macht

: I got a chance to play a Blackfoot Indian warrior brave — me, a Jew from Brooklyn. I played opposite Charlton Heston, and I chased his ass all over Wyoming, trying to kill him. As a kid who went to see Westerns in the late '40s, that was a dream come true.

Last year my wife and I took a [vacation] in Wyoming, where we shot the movie. We took this boat ride down the river and I'm pointing out the places where we shot, and I hear someone say, "If I don't throw that bad-ass Heavy Eagle off this boat, my friends are going to say I'm a coward!"

I turn around and this guy's got a big smile on his face. His wife says to me, "Mountain Men is his favorite movie." What are the chances?

Weekly: Is it true you gave Patrick Stewart a run for his money as Jean-Luc Picard in Star Trek: The Next Generation?
Macht: Yes. Gene (Roddenberry, the creator) knew of me from one of his writers. He said, "Look, I want you to play this part. You're the guy to do this." And I said, "Why should I play this part? It's a guy talking to people with two heads all the time." He said, "It's not really about that, Steve."

I wasn't a smart businessman at the time, so I missed an opportunity there. I didn't have my stuff together, and I think I was probably frightened to play that part. Actors make terrible mistakes when they're in fear and don't understand who they are. But now I'm at the time in my life where I'm beginning to understand what this is all about.

Matt Richenthal is the Editor in Chief of TV Fanatic. Follow him on Twitter and on Google+.

Tags: Soap Operas
Want more Soap Operas?
Sign up for our daily newsletter and receive the latest tv news delivered to your inbox for free!
From Around the Web
More From TV Fanatic
Scott Elrod has been cast on The Young and the Restless. Read on for key details.
Our Days of Our Lives round table with MyHourglass debates Eve vs. Jennifer, Sami's master plan and who was their favortie shirtless Salemite.
Evil sisters, a Dimera behind bars, and a shirtless 4th of July picnic capped off this week of Days of Our Lives.
Check out these photos from Days of Our Lives airing the week of 6/30/2014. Take a look ahead at what's on tape.
---