You'll see Fabian Sanchez in action tonight for the first time on Dancing with the Stars, as the professional makes his show debut alongside Marlee Matlin.
Here's a bit of background on the new Dancing hunk:
Sanchez was working at the Ryan's Steakhouse in Birmingham, Alabama in 1992 when Al King, the area developer for the Fred Astaire Dance Studios, walked into the restaurant. King said Fabian was "posing like a matador" behind the counter and instantly saw potential in this pupil.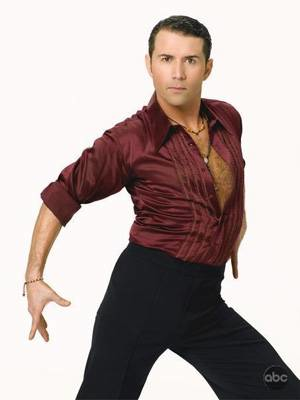 King invited Fabian to apply to the Fred Astaire training program. Sanchez - who dreamed of attending college and playing pro soccer one day - agreed. He assumed this would serve as a temporary summer job.

Now, of course, the gig has lasted fifteen years. Fabian and wife Jacqueline are now the owners of the Birmingham studio. He is also a member of the Fred Astaire Dance Studios National Dance Board.

Sanchez has earned a number of national and world titles as a dancer along the way, including the United States Rising Star Champion, a four-time Fred Astaire National Champion, and a United States Open American Rhythm Finalist. He placed third in the World Mambo Championships.

Moreover, the professional serves as a coach and sought after choreographer.

Fabian said that had it not been for King, none of this would have come true.

"I don't know what I'd be doing if it weren't for King," Fabian said, "I grew up in Colombia so, for me, King initiated the American dream." But, he also credits his "smart, beautiful" wife in helping keep everything together with the studio.

Matt Richenthal is the Editor in Chief of TV Fanatic. Follow him on Twitter and on Google+.

Tags: Dancing With the Stars