Kevin Schmidt just joined The Young and the Restless. He recently talked with Soap Opera Digest about the role of Noah Newman.
Soap Opera Digest: How are you enjoying The Young and the Restless?
Kevin Schmidt: I'm having a blast. I'm still getting used to the motions, but I feel like I'm just getting comfortable. Sharon (Case, Sharon) and Joshua (Morrow, Nick) have made it their job to make me feel comfortable, and all of the crew is taking care of me. I'm paying attention and doing my thing.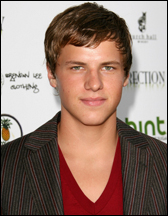 Digest: How did you get involved in acting?
Schmidt: I actually wanted nothing to do with it, believe it or not. I'm originally from Kansas and have two brothers. My older brother was watching TV and said, "I can do that." He did a lot of commercials and print work in New York. Then my mom and my other two brothers went out to L.A., while I stayed behind and was a normal kid for two years. Then one summer my mom was like, "Why don't you come out and try it?" So I came out when I was about 9 years old and auditioned for a movie called Mind Rage and got it. I was on set where my character had to shoot his mom with a pistol [laughs]. I was hooked! I got to go to work and play make-believe. It was the perfect job.

Matt Richenthal is the Editor in Chief of TV Fanatic. Follow him on Twitter and on Google+.

Tags: The Young and the Restless