In our exclusive interview with Ashlie, just a couple days after her elimination on Stylista, the contestant remained upbeat and well-spoken.
Here's what she had to say about DyShaun's tactics, pressure in the house and more...
Stylista Fanatic: Did you see this week's elimination coming as soon as you and DyShaun lost the challenge:
Ashlie: It was frustrating because of the editing process. I actually just wrote the copy, while DyShaun was at fault for adding too many photos.
But I could tell he was setting it up so I'd receive the blame if we lost, but what could I do? I had a job to finish.

Stylista Fanatic: The Assistant's challenges have felt useless all season. What are your thoughts on them?
Ashlie: They weren't necessarily fashion-related, that was my main issue with them. They were great for entertainment, sure, but were sort of humiliating challenges. I think it's a budget issue and wouldn't be surprised to see them change in seasons two, three, etc.

Stylista Fanatic: Do you think there will be many more seasons of the show?
Ashlie: Definitely. The Rachel Zoe Project was just picked up for a second season and it averaged 688,000 viewers; we're at 1.97 million. Everyone involved is just so passionate about the show.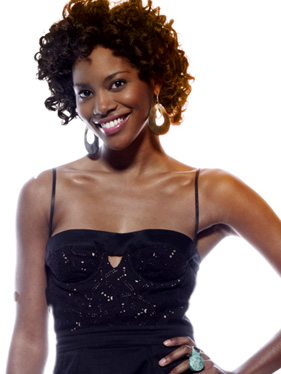 Stylista Fanatic: Who do you want to win? Who do you think should win?
Ashlie: Megan has the most aptitude and the best sense of fashion business. I think she has what it takes to win. I'd like to see DyShaun or Johanna win because they've been working so hard.

Stylista Fanatic: Describe the living situation. What was it like to be surrounded by so much drama?
Ashlie: Everyone is under lots of pressure and there's just so little sleep. So it was frustrating, but you get thrown in to this environment, and it can be difficult to cope with. We're under pressure people can't see.
I think some individuals acted in ways that were unlike their usual personality due to such extraordinary circumstances.

Stylista Fanatic: Any regrets?
Ashlie: Not at all. I made great contacts and great connections. I was happy with everything.

Matt Richenthal is the Editor in Chief of TV Fanatic. Follow him on Twitter and on Google+.

Tags: Stylista