Celebrity Gossip Site: Jason Mesnick and Molly Malaney Drifting Apart, Nearing a Split
by Matt Richenthal at . Comments
Reports of Molly Malaney and Jason Mesnick dating and getting to know each other in the aftermath of their epic Bachelor season finale came as a relief for fans of the couple, who seemed glad to return to real life.
But according to one celebrity gossip site, things have slowly gone south between the two - and a breakup may happen as soon as this weekend.
Molly Malaney, 24, is said to be far less enamored of the single father than she once was, and is considering breaking up with him over Easter.
"The more she sees Jason, the less she likes him" a friend reveals.
If they did split, that would make The Bachelor 0-for-13.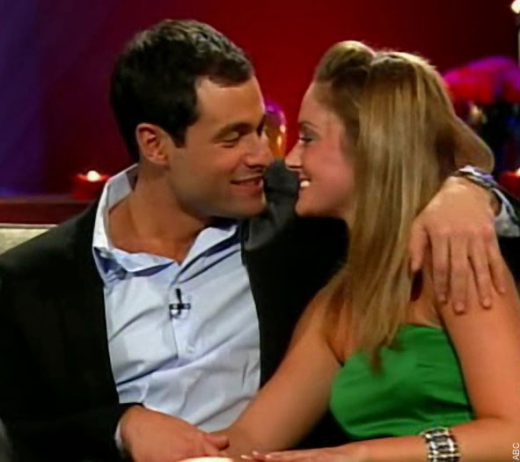 Jason Mesnick and Molly Malaney cozy up on TV.

The "friend" adds that Molly doesn't trust Jason Mesnick after dumped Molly on the season finale, then won her back on the "After the Final Rose" special.

"Let's face it, (Molly) was his second choice," a second source says of runner-up Molly Malaney and Melissa Rycroft. "He has a history of being fickle."

It's also rumored that Molly isn't ready to relocate to Seattle.

"Jason expects her to quit her job and move," the source says. "Molly's not giving up her life unless she's 100 percent sure that he's committed."

Right now, the relationship is shaky. The two talk almost every night on the computer, but she hasn't gone to Seattle to visit Jason since March 3.

"It's make-or-break time," the friend explains.

Matt Richenthal is the Editor in Chief of TV Fanatic. Follow him on Twitter and on Google+.

Tags: The Bachelor