Jillian Harris says her Bachelor hot tub scene with Jason Mesnick made her dad's jaw drop, but she's not going into detail about what happened.
Calling a query regarding that scene "probably the most inappropriate question ever," the new star of The Bachelorette just isn't gonna go there.

"I'm normally a really open girl about these things, but it's one of those things that anybody can assume that if I had a steamy make-out session with Jason and I went in the hot tub that him and I quote-unquote did it," she said.
"And if that's the case, then we can also assume that every Bachelor and Bachelorette in the history of the show has done it with people."
"I think being a 30-year-old grown woman who is successful in her career and has a great background with great morals and values, people can look at me and who I am as a person and they're entitled to their opinion."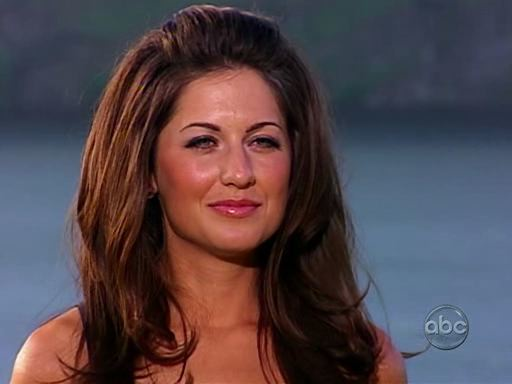 The hookup with Jillian was one of three close encounters Mesnick shared with the final competitors on last season's concluding episodes of The Bachelor.

He eventually said goodbye to Harris first, setting up the season finale in which he chose Melissa Rycroft, only to break up with her for Molly Malaney.

Whatever happened in that hot tub - again, she's not gonna talk about it - Jillian Harris harbors no ill will toward Mesnick or the two other girls.

"I honestly think Jason is a really great guy. Even after he let me go last season, I don't feel like he led me on," she said. "He is going through this process to make sure that he makes the right choices and sometimes a good steamy make-out session with somebody can enlighten you."

Jillian Harris also says she has no problem being the creator's third choice for The Bachelorette (behind Melissa Rycroft and Molly Malaney).

"I was a third choice last season. I know what it feels like; I'm comfortable with that," she joked. "Honestly, I'm just a short little hyper quirky Canadian and I actually don't feel like I fit the mold of the Bachelorette very well."

Matt Richenthal is the Editor in Chief of TV Fanatic. Follow him on Twitter and on Google+.

Tags: The Bachelor, The Bachelorette