He appeared on screen for a total of one minute and 45 seconds.
But Titus Welliver made a lasting impression on Lost fans during May's fifth season finale.
The actor waxed poetic on the condition of human beings ("They come. Fight. They destroy. They corrupt. It always ends the same."), inhabited John Locke's body and killed Jacob.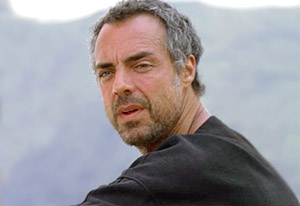 Now, in an interview with TV Guide, Welliver speaks on his unnamed character. Here are a few excerpts:

On his character's lack of a name: "He has no name. He's just "the man," because they don't want to give anything away. I know that this character has a name and I know the importance of it; that's all that I know"

On good vs. evil on Lost: "The way that I interpreted it, on a biblical level, is that it's a sort of Cain-and-Abel scenario. So by destroying Jacob, what does that prove — that [the man in black] can ultimately have power over the island? Do the castaways become solely his playthings? And why was it so important that he find the loophole to be able to kill Jacob? That moved me in the direction of thinking that if he needs this loophole, there's a greater power than the two of them that they're answering to."

Matt Richenthal is the Editor in Chief of TV Fanatic. Follow him on Twitter and on Google+.

Tags: Lost, Interviews, Spoilers