Jeanine Mason is your So You Think You Can Dance champion. She was crowned the victor on Thursday night, overcoming Kayla Radomski, Brandon Bryant and Evan Kasprzak in the finals.
Following her win, the 18-year old spoke to Entertainment Weekly about various aspects of her experience. Here are a few excerpts from the interview:
On who she thought would win: We really had no idea. Towards the beginning we tried to play that guessing game but you can honestly never guess what America wants. The perfect example of that is Janette leaving. She's like my big sister — I love her to death, she's from Miami, I've known her for awhile. I thought she was gonna win the season.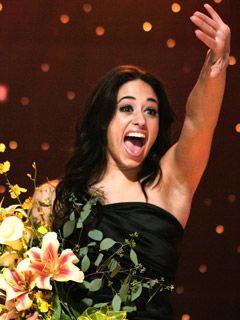 On injuries during the season: About a year ago, I had surgery to remove a tumor from my left elbow. I went through radiation treatment — the summer before my senior year, I spent every morning in the hospital. My elbow is much better now, and finally bending like it should, but it still gets locked up now and then. So when you're training 12 hours a day, it definitely acts up.

On her solo performance in the finals: That was the best performance of my life. To finish that turn sequence with the pirouettes and ending on those beats…it just gives me goosebumps going back to it.

Matt Richenthal is the Editor in Chief of TV Fanatic. Follow him on Twitter and on Google+.

Tags: So You Think You Can Dance