Congratulations are about to be in order for Kyle and Fish on One Life to Live.
The couple known as "Kish" will tie the knot on November 2, confirms TV Guide Magazine, just as Kyle is set to marry Nick as part of a symbolic wedding of 25 same-sex couples.
Scott Evans, who is gay in real life and who plays Fish, recently spoke on the big event. A couple excerpts:
On Fish and his parents: Fish still hasn't heard from his parents since he came out to them. Things weren't left on the best of terms, so he suddenly has the realization, "Oh, my gosh, my parents were probably watching this and just saw me come out!" If there's any hope of reconciliation, this is probably going to ruin it. His dad was his hero for his whole life, and you don't want to be shot down by your hero. That's not ever going to go away.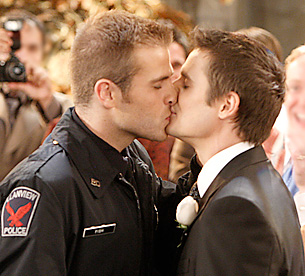 On the Kish relationship: The guys both realize they should probably go on a date first. After everything that's gone on between them, there's no way they're about to put a ring on it just yet. But, yeah, they decide to be a couple and even that won't be easy because something always comes up - no pun intended.

Kyle is a med student on call, Fish is a cop on call, so it'll be tough to schedule a relationship. It'll be frustrating for the fans who've been waiting so long for them to get together but, eventually, they'll get what they want. We gotta take it one step at a time. I hope we're shattering [the notion] that gay guys can't wait to get into bed. That's a stereotype.

They'll be spending time together when they can. He comes over to Fish's place for Thanksgiving. It's all very, very sweet. It'll be nice to see the relationship develop.

** UPDATE: Astute readers have written in and said we got this wrong. Kyle will NOT marry Nick on this episode, but he also will NOT marry Fish. Evans' quote at the end here makes more sense in that context.

We apologize for the confusion and the error.

Matt Richenthal is the Editor in Chief of TV Fanatic. Follow him on Twitter and on Google+.

Tags: One Life To Live, Interviews, Spoilers