Fans were treated to a special 90-minute installment of Sons of Anarchy this week. Read all about "Balm" right now.
We needed the extra time to deal with the repercussions of Jax's decision at the end of last week's episode and Gemma's decision at the end of this week's. As SAMCRO readies to vote on Jax's desire to turn Nomad, Gemma realizes that the only way to save the club may be to reveal the awful truth about what happened to her weeks ago at the hands of Ethan Zobelle.
Will her horrible past create a better future for the club?
 
What Worked: Long Roads
Jax may be angry enough at Clay to leave the club, but what will Piney's rage eventually lead to? He hates Clay for destroying his club, for killing his daughter-in-law, for trying to kill his son and for driving Opie down the dark path he is just now crawling back from. Piney's snarl at Jax, "I don't have a long road", shows just how adamant he is about getting vengeance. The montage at the end showed Piney sitting in front of a bottle of whiskey and a handgun; who knows how these three volatile things will combine before the season ends.
Speaking of long roads, the singer Patty Griffin has a song called "Long Ride Home" (which we assume takes place on some sort of long road) and while that was not the song playing over the end montage, was there any song better suited for that scene than Griffin's "Mary"? Well done.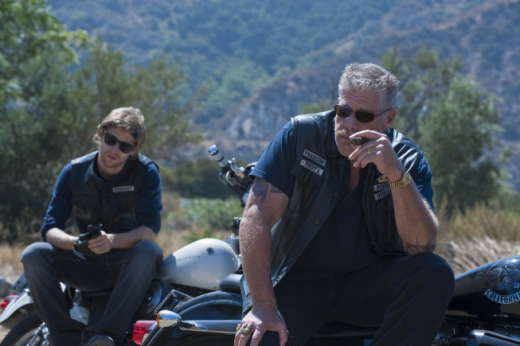 What Really Worked: IRA Administrator
The IRA leader Jimmy O has been whispered about for weeks and his debut delivered. Played with the perfect combination of slime, power and menace by the terrific character actor Titus Welliver (whose Shakespearean name fits this show wonderfully), Jimmy O is truly a force to be reckoned with in Charming.

What Really Didn't: Hospital Administrator
Actually, we may have to side with the old busybody on this one. I mean, the Charming hospital isn't some biker bar, yet SAMCRO seems to spend more time there than at the club. Perhaps she was right to suspend Tara for allegedly lying to keep Chibs in the hospital. But we still can't like anyone whose actions result in Tara spending less time at the hospital and more time having boring conversations with Jax.

What Really Worked Part 2: Stahl's Drive
In a town full of biker gangs, meth dealers, IRA gunrunners and white supremacists, it should seem odd that the real snake in the grass is an ATF agent, but Agent Stahl continues to be the slipperiest character of the bunch. She seamlessly worked Chibs and Edmond Hayes to turn on Jimmy O, and her threat about taking Jax's son away from him had to hit home. The shot of Stahl lounging, uninvited, on Jax's couch is reason enough to never turn your back on her.

What Really, Really Worked: Gemma's Revelation
Gemma has kept the truth about her attack secret for weeks now and it has eaten her up inside, turning her into a shell of the strong, cunning character she was last season. When she realized that the fate of SAMCRO would be decided if Jax were to leave, she found her strength again and decided to tell Clay and Jax what happened. She did so hoping that by giving the two a common enemy, she'd unite the club and save SAMCRO. And judging by the tender moment between Jax and Clay, she may be right. And if she is, we would not want to be Ethan Zobelle next week.

What Really, Really Didn't: Gemma's Over-Sharing
Listen, we know that she's a tough biker chick and he's a tough biker dude and biker cultuer is all about chasing tail, but Jax is still Gemma's son and he doesn't need to hear his mom call his dad a "great lay". Gross.

Matt Richenthal is the Editor in Chief of TV Fanatic. Follow him on Twitter and on Google+.

Tags: Sons of Anarchy, Reviews