The Sons of Anarchy rounded up their loved ones and put protection on them as they prepared their endgame for Ethan Zobelle and the League of American Nationals this week.
But did things go according to plan, or did the devilish Zobelle find another way to squirm free? Get the answer now in our recap of "The Culling" and then our take on it below...
What Really Worked: Tara of Terror
Tara finally realized the influence the "old lady" of SAMCRO's #2 should have, assaulting and threatening that annoying hospital administrator. She threatened the woman's life and the life of her kids, and told her that she should leave her alone. We have a feeling that those complaints about Tara are going to be dropped pronto. Dynamite right hook, and way to make your threats while loading a gun. Really stresses the point.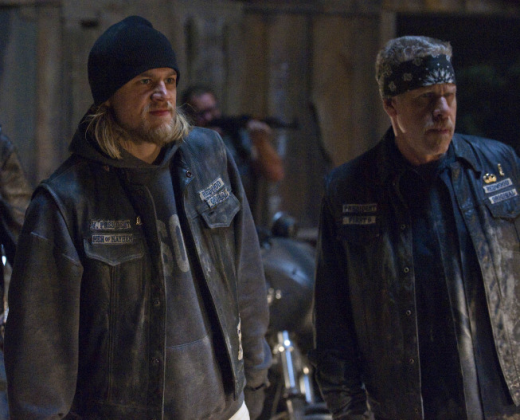 What Didn't: Tara and Gemma, Together Again
Look, we just said we loved Tara's new tough streak, and we know she got it from Gemma, but did she have to drain Gemma's own toughness to do so? Gemma had another of her boring, is there a God? conversations with Tara as the crew prepared for battle. We love Gemma, but she's much better when showing than telling. She says that she realizes God wants her to be a "fierce mother." Well, darling, show us how fierce you are and stop telling Tara.

What Really Worked: Just a couple of quick hits from tonight's episode:
The Return of Chuck!
Turns out our favorite two-fingered accountant didn't die in the porn studio fire. In fact, Chuckie boy not only returned, but also filed the arson claim that should give SAMCRO plenty of insurance money and resulted in the arrest of AJ Weston. Two thumbs...err, or whatever you've got left...up, Chuck!

Sack Patch
Clay made his first mention of Half-Sack getting his patch this episode. It's about time. The kid definitely deserves it.

Bobby One-Liner
When Agent Stahl realizes she's been set up by both SAMCRO and Jimmy O, she slaps Chibs in a rage. Bobby, always good for a laugh, recommends that the club stick around so that they can file assault charges against her. While we're sure Stahl would rather have assault charges than Opie sticking another gun in her face, it was definitely a solid put-down by SAMCRO's resident comic relief.

What Really, Really Worked: Stepfathers and Sons
It's good to see Jax and Clay back on the same page, and all it took was the assault and rape of Gemma to get that to happen. As the crew plans its final assault on Zobelle, the two start the show with a friendly hug, once again partners in crime.

What Really, Really Didn't: Fathers and Daughters
If it wasn't gross enough for Ethan Zobelle to smell his daughter's fingers and determine that she had been sleeping with Edmond Hayes (seriously, bro: awkward. Just let your smoking hot, racist daughter get her swerve on in peace), Zobelle had to go ahead and plant a long, lingering and downright nasty kiss on Polly's lips. Look, we know she's hot, but it's not like she's our daughter.

Matt Richenthal is the Editor in Chief of TV Fanatic. Follow him on Twitter and on Google+.

Tags: Sons of Anarchy, Reviews