If there's any justice in the televison awards world, Katey Sagal will be nominated for an Emmy for her work throughout season two of Sons of Anarchy.
As Gemma Teller Morrow, Sagal was the heart and soul of the FX series, whose second season run many critics consider to be one of the best in TV history.
A couple weeks after the incredible finale, the actress spoke at length to E! News about her character's past and future...
On Gemma's season two storyline: I was really looking forward to it, not the actual [gang rape] scene to shoot, but as an actor, I understood where the character was going, and I thought well that's a pretty interesting way to go with her. People are dimensional, people are not just one way so the opportunity to show that is always interesting.
On Gemma and Tara's new bond: The fact that Gemma at the end of the first season realizes she's not gonna to be the first girl, in terms of being close to her son, so Gemma being the smart woman that she is, she realizes it's better to join them. She's decided to contribute to the education of Tara, she's going to teach her how to be a woman in this world because it looks like she's here to stay. And Tara really went out on a limb for the club this season, she risked her job, she risked everything so Gemma admires that.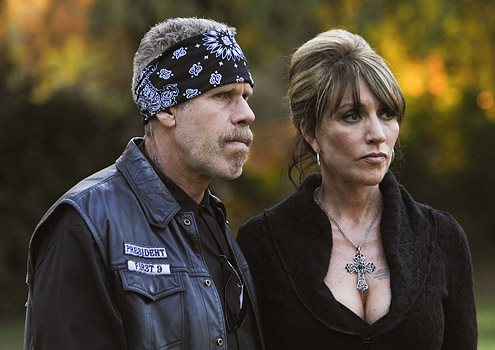 On Gemma and Jax: A season is probably a few weeks in story time, so I think it was a really rough few weeks in terms of intimacy for anybody with Gemma. She pulled away from everybody after the rape. As an actor, I miss being with Charlie [Hunnam]—I love playing with Charlie—so who knows, maybe my husband will write stuff for me and Charlie.

On her response to Abel's kidnapping: I think Gemma's would response would be horrified, and she would be proactive in righting the wrong. She's not somebody who sits on the sidelines, she takes action.

Visit E! Online for the full interview and celebrate: Sons of Anarchy has already been renewed for a third season!

Matt Richenthal is the Editor in Chief of TV Fanatic. Follow him on Twitter and on Google+.

Tags: Sons of Anarchy, Interviews